Bletchley Park, just outside Milton Keynes, was the wartime secret home of Britain's code breakers. It has gone from a place whose very existence wasn't ever acknowledged to a top visitor attraction, and in my mind it's a must visit for anyone with an interest in war time history.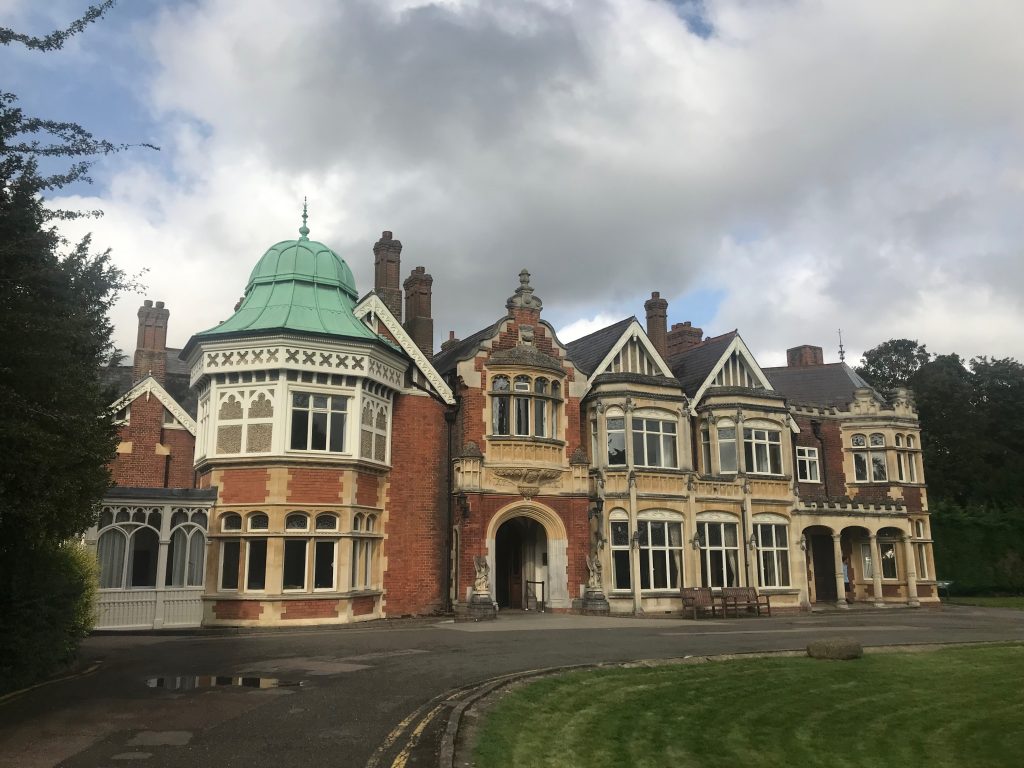 What was done at Bletchley Park?
During the Second World War, Bletchley Park was the centre of all Allied code-breaking efforts. It housed the Government Code and Cypher School (GC&CS) who worked to decode the communications of Axis powers. Most famously they cracked the German Enigma and Lorenz codes at Bletchley. The GC&CS later turned into what is today known as GCHQ – the Government Communication Headquarters.
Bletchley employed some of the brightest minds available, but with the vast number of messages that needed decrypting it was soon realised that working through everything manually was simply not sustainable. Instead they started developing machinery to help with decryption and this work culminated in the development of Colossus, the world's first programmable digital electronic computer.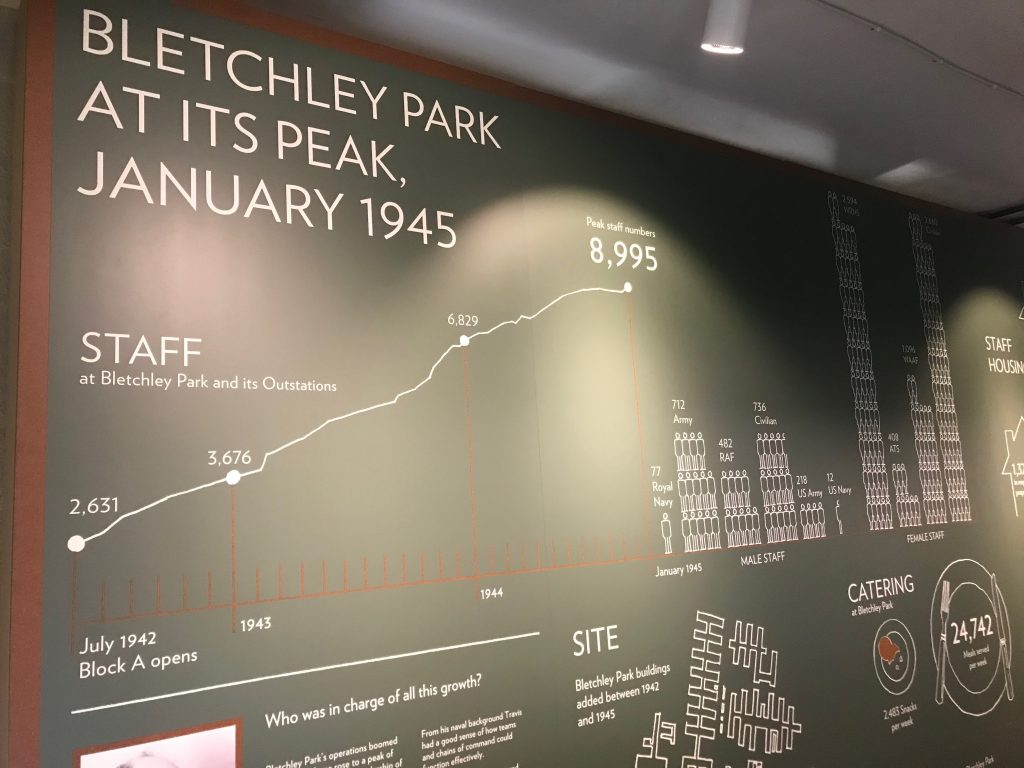 At its peak nearly 9,00 men and women (the majority women) worked at Bletchley, and it is thought that the work they did helped to shorten the war by between two and four years. It's incredibly really just how much was done there, in absolute secrecy from those living outside the park.
The physical location of Bletchley Park was perfect because it is situated close to Bletchley train station, which was then on the Varsity line which ran between Oxford and Cambridge. Students and graduates from both these universities were exactly the kind of people that they wanted to work at Bletchley. Bringing with them incredible skills in mathematics, logic and languages.
Saving Bletchley Park
Today we know all about the work that was done at Bletchley Park and even those who haven't visited might be able to speak of Enigma and even know that Alan Turing worked there. There was a real risk though that the Bletchley Park story might have gone untold. In 1990 the huts at Bletchley were being considered for demolition and had it not been for the work of the Bletchley Park Trust (formed in 1992) it is quite possible that the whole site might have been redeveloped.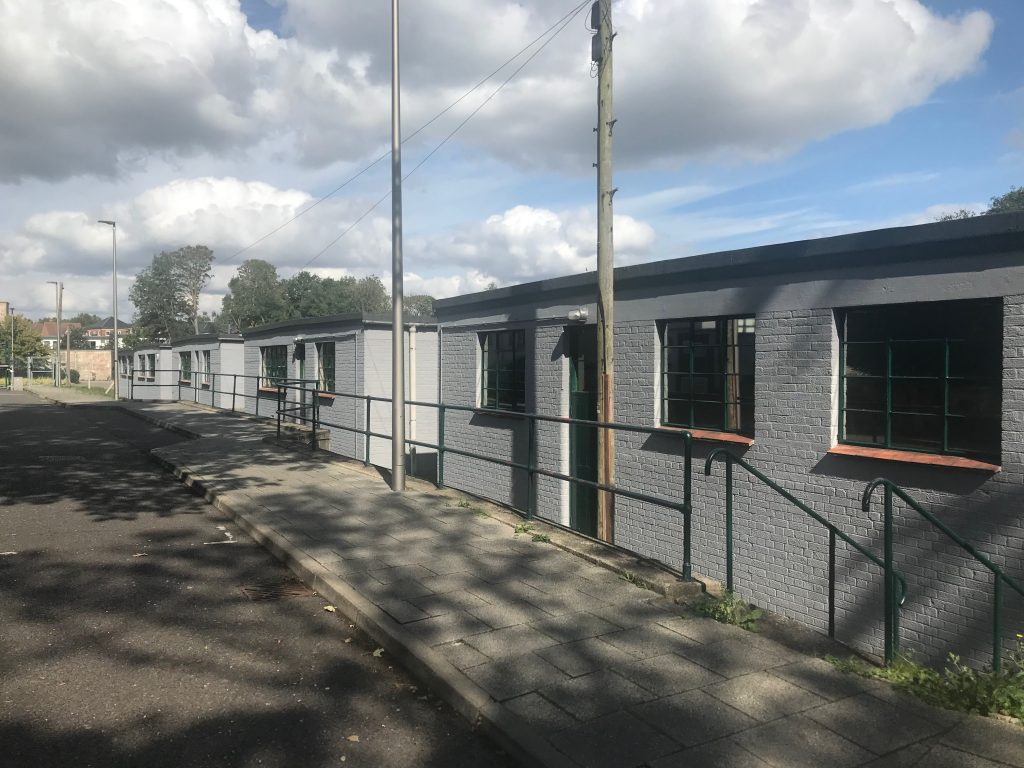 Funding remained a huge issue and great efforts went into approaching large technical companies whose own existence stemmed from some of the work done at Bletchley. Most notably Google who donated £550,000 and in doing so helped to unlock £4.2m from the Heritage Lottery Fund.
The Covid pandemic also had an impact on Bletchley and has affected some of their plans going forwards due to reduced visitor numbers during lockdowns and subsequent restrictions. Facebook were one of the companies that provided a financial contribution to help them recover from the pandemic.
Bletchley as a visitor attraction
In the end it was an £8 million restoration project that resulted in Bletchley Park opening as a visitor attraction in June 2014. Nearly ten years later it is now an award winning visitor attraction which tells an incredibly important story about the site's role in World War Two, along with the stories of the men and women who worked there.
Open every day (with only three exceptions at Christmas) it is obviously an attraction that appeals to those with an interest in wartime or military history, but its appeal goes wider than that with the way that it includes exhibitions on the technology and also the social history around its years of operation.
There are some lovely little personal touches to give you an idea of how they managed to run such a large operation there, and the lives of the people who worked there. A favourite of mine has to be this meno about tea and coffee cups.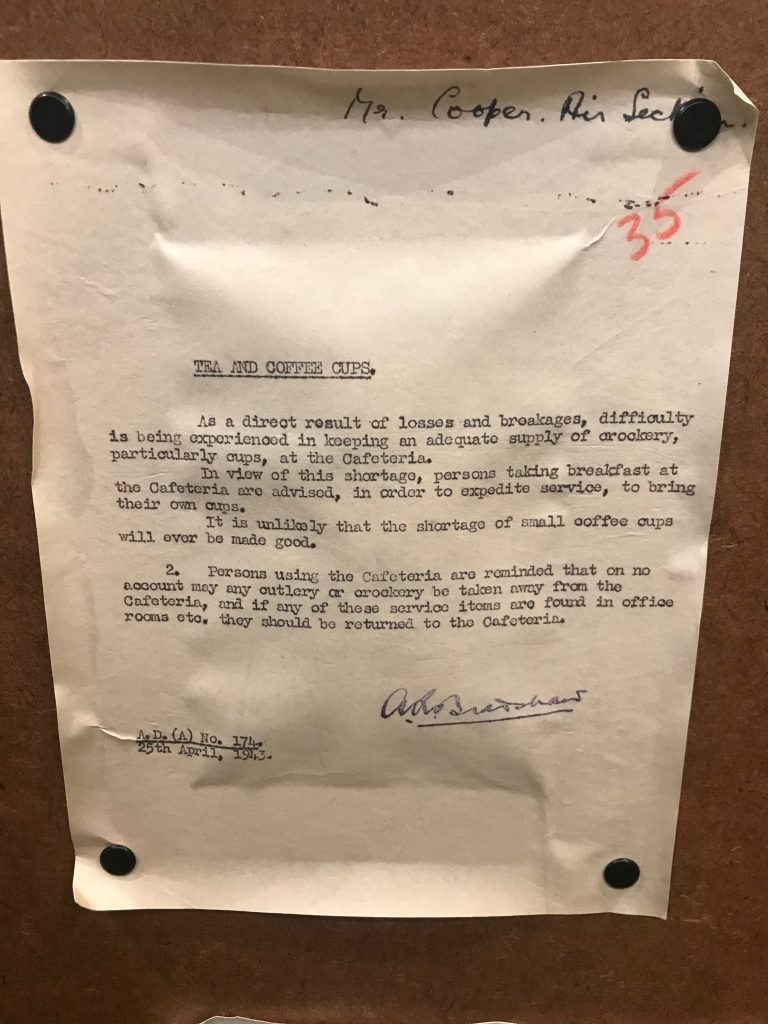 Visiting Bletchley Park
It is impossible to summarise in just one blog post everything that there is to see at Bletchley Park. There are so many different exhibition spaces that you could easily spend a whole day at Bletchley and still come away thinking that you haven't had chance to see everything. It's for this reason that your ticket is actually valid for a whole year, and this is something that I will definitely be taking advantage of over the next twelve months. My most recent visit overlapped with my mum going there on a trip of her own, so some of our time was spent chatting over a cup of tea in the cafe. As a result I only really got time to properly so three sections. There are so many wonderful hands on exhibits that help you understand code breaking and forming intelligence from what you intercept that you could easily spend days doing everything there.
Multimedia Guides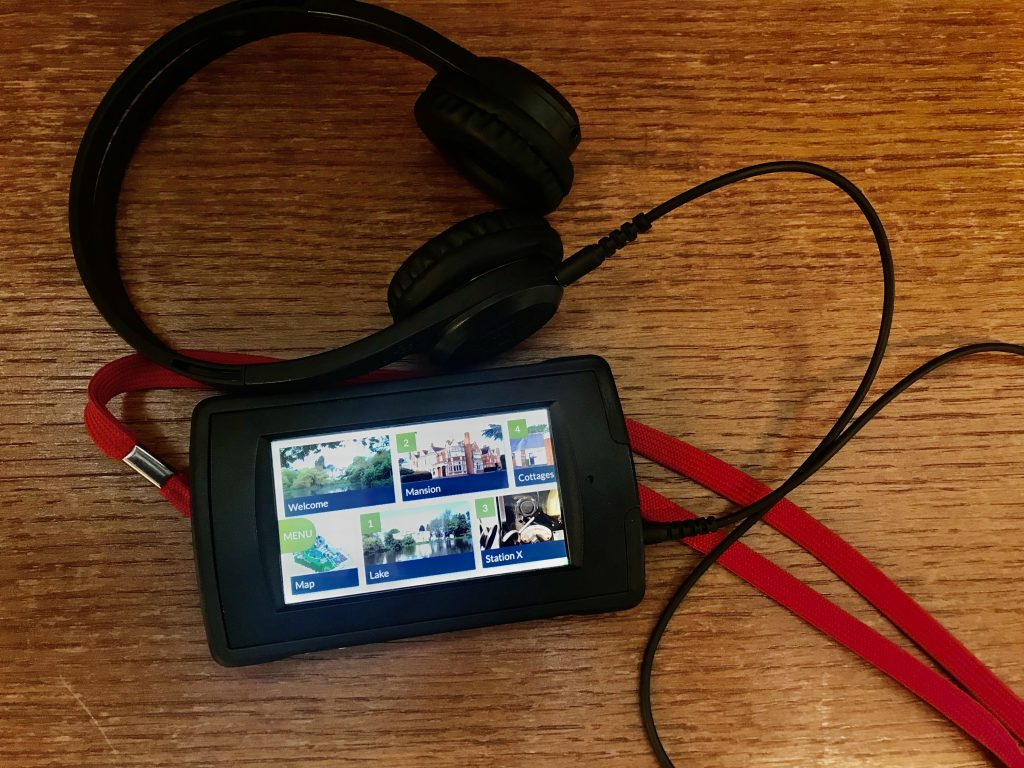 All visitors are offered a free multimedia guide to use during their visit. This phone sized device has headphones and a lanyard so that you can wear it round your neck. Available in several different languages, there is a simple to use picture menu that allows you to choose points around the site in your own order. There are videos and eye-witness accounts from people who worked at Bletchley and it really does enhance your visit.
Practical Visitor Information
Bletchley Park's own website contains much of the information that you might need to plan a visit. Everything from opening hours to ticket prices. You can also book admission tickets online. It is worth noting that if you are a local resident (postcodes within a 10 mile radius) then you get a 50% discount. There are also reductions for English Heritage members. Under 12s are free of charge.
Whilst young children are welcome and might enjoy some of the hands on exhibits and the play area I honestly think that older children and adults would get more out of the museum if they are able to concentrate on what they are seeing there. This is not meant to be an anti-children statement – I'm a mum of three – but just a practical point based on my own visitor experience. There is so much to take in and absorb that trying to do so whilst having an eye on a young child is very hard.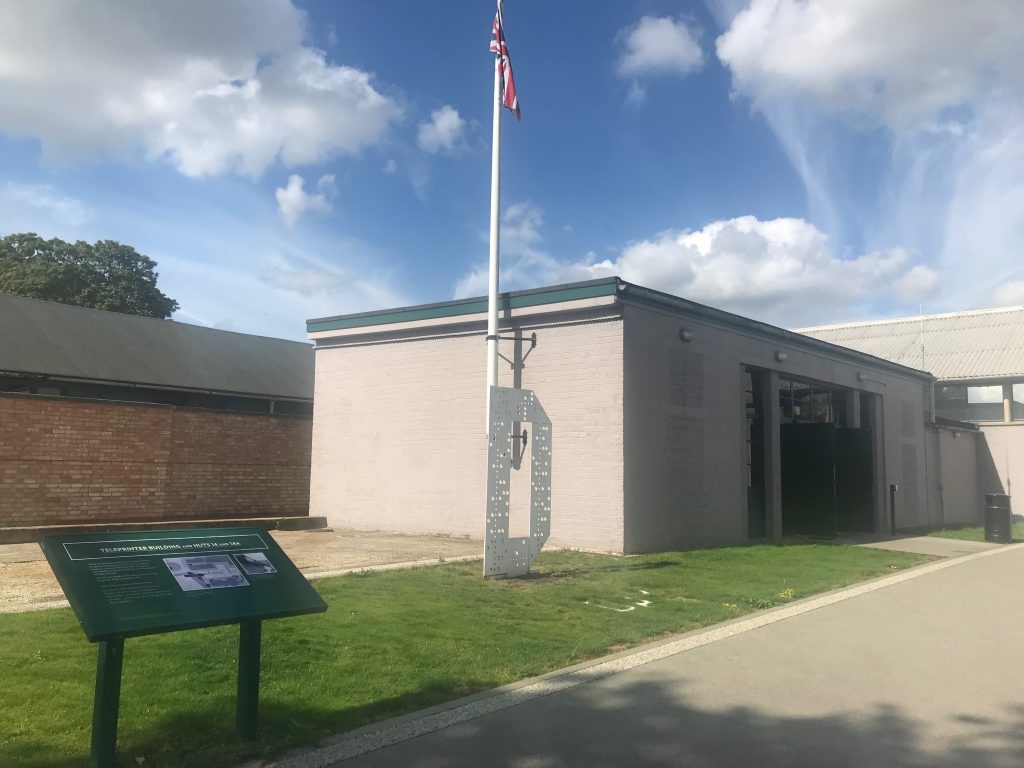 As well as two cafes and an outdoor snack bar there are a large number of picnic benches on the lawn near the lake that people can picnic at. For something a bit special it is also possible to book afternoon tea at the Manor House on most weekends.
The gift shop contains a range of war time related souvenirs alongside a wonderful range of books and puzzle books. I quite simply could have spent a fortune in there!
The Bletchley site is large, so make sure that you wear decent footwear when visiting. Toilets are located at numerous points around the site and are generally well marked on maps and signs. In generally accessibility is good with automatic doors and ramps to get into buildings. Most of the videos have subtitles and I spotted large print guides in various areas. Further accessibility information is available on their website.
Want to visit somewhere else local?
Why not take a look at where else I have visited in Buckinghamshire, or the neighbouring counties of Hertfordshire and Bedfordshire.