Along side the amazing onsite theme park, one of the other main attractions at Duinrell is the swimming. The site boasts the largest water park in the Benelux area, with a total of 21 slides and other features. There are both indoor and outdoor pools with an array of water slides for all ages and abilities, but many visitors are left wondering how does swimming work at Duinrell? It's certainly a confusing situation. Having visited (In July 2023) I hope I can help explain things.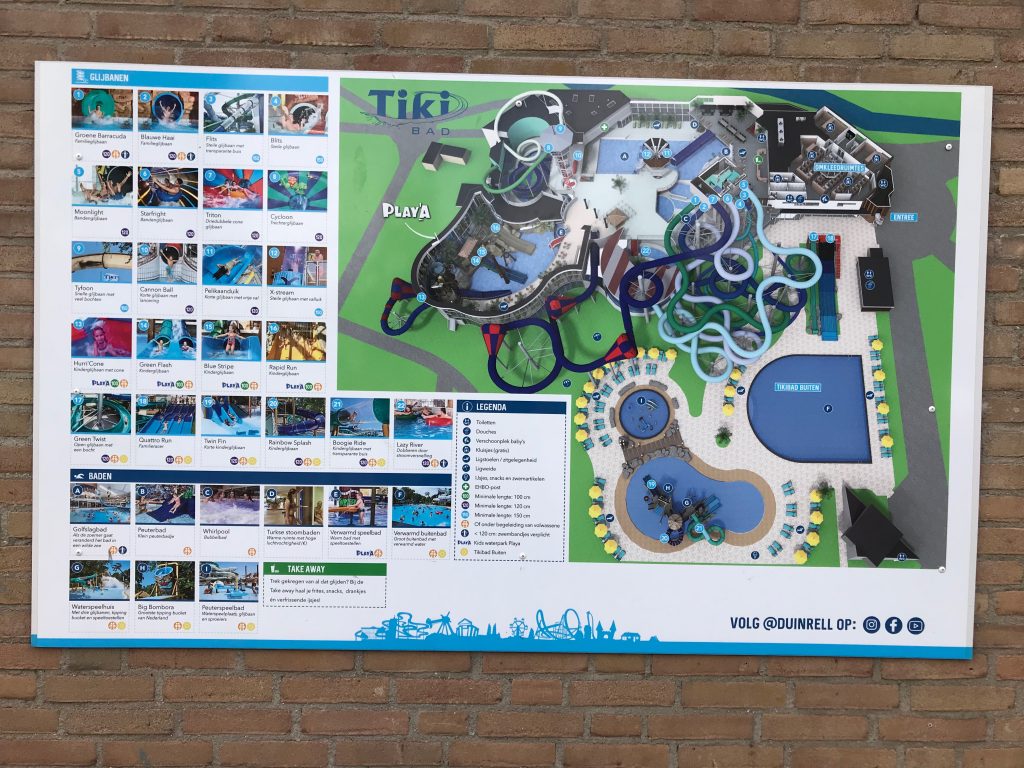 Indoor or outdoor?
There are two separate pools at Duinrell – one indoor and one outdoor. When you go swimming you choose in advance which pool you go to and you're not able to move between the two.
Tiki Bad – indoor pool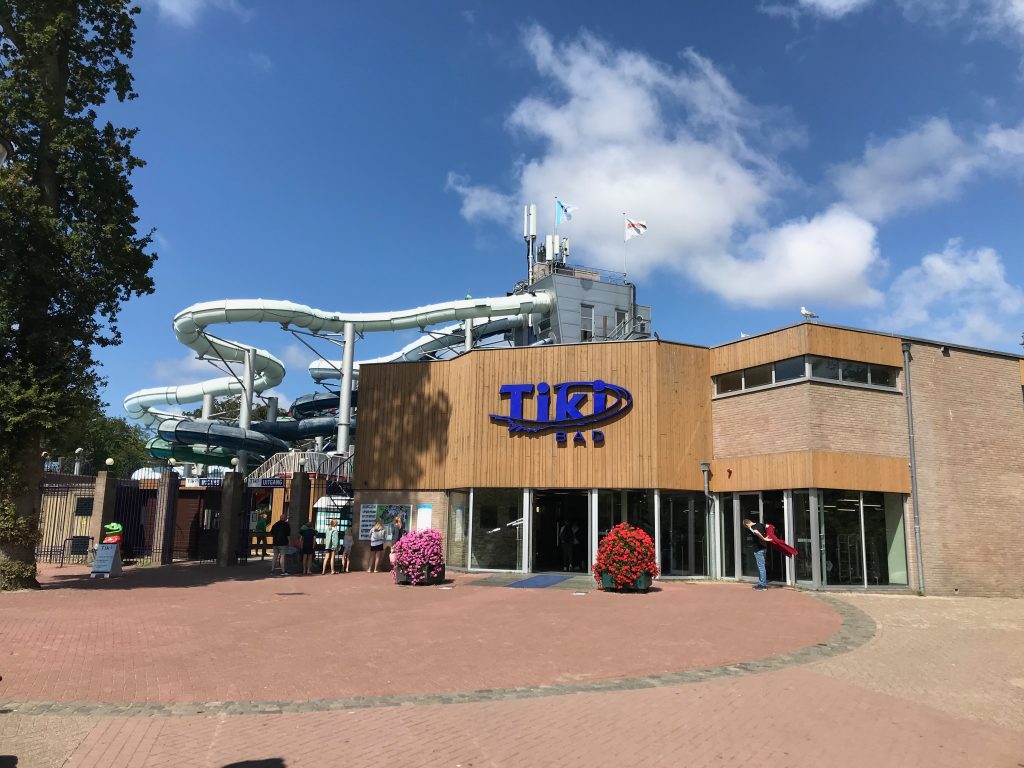 The indoor pool complex contains the majority of the slides, along with a long lazy river (which includes a dark section with fake bats!), and a couple of pools aimed just at children. There are different height restrictions for all the pools and clear signage telling you how tall people have to be for each slide.
It's also worth noting that children under the age of 120cm are not allowed in certain parts of the pool or on some slides without armbands. Even though our daughter is a decent swimmer for her age, and always had one of us with her, she still needed them. If you don't know this in advance you can buy armbands from the pool reception for under €4.
Tiki Pool – outdoor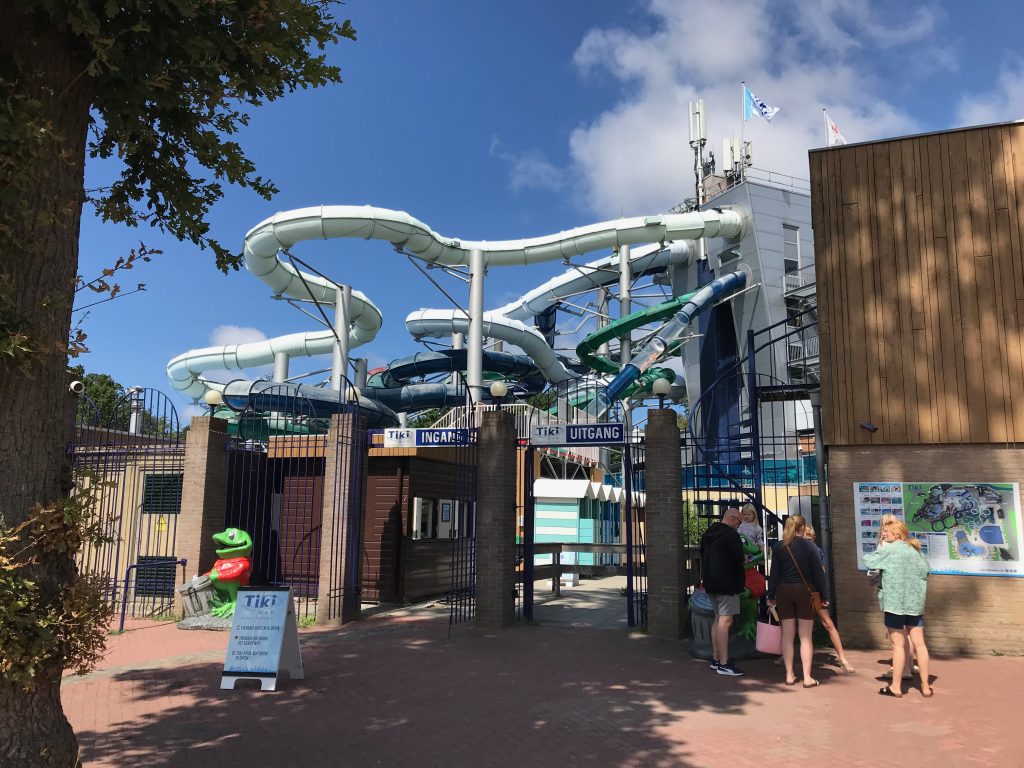 The outdoor tiki pool is only open in the summer months and contains a variety of slides and splash areas, including the largest tipping bucket in The Netherlands! When we stayed at Duinrell, although the outdoor pool was officially open, it just wasn't quite warm enough for us to brave it.
How much does it cost
Much of the swimming confusion at Duinrell comes from the fact that swimming isn't necessarily included in the price you have paid to stay at Duinrell. This makes it quite different from staying at somewhere like Centre Parcs where it is included in the price. As I explain in my main post about Duinrell, there are different ways to book to stay at Duinrell. You could book direct with Duinrell, or you may book via Canvas Holidays or Eurocamp. With people trying to save money as much as possible right now there's no wonder people are asking how does swimming work at Duinrell.
If you've booked accommodation with Duinrell direct then swimming is included in the cost of your accommodation. That is not the case if you have booked a camping pitch with them though – then you get a discounted swimming rate of €7 per person for indoors and €5 for outdoors (these prices are increasing by €0.50 for 2024). When you check in with Duinrell you receive vouchers with codes on which give you free / discounted swims. The number of vouchers depends on how long you are staying for. One voucher applies for everyone in your accommodation – you just say how many people when booking.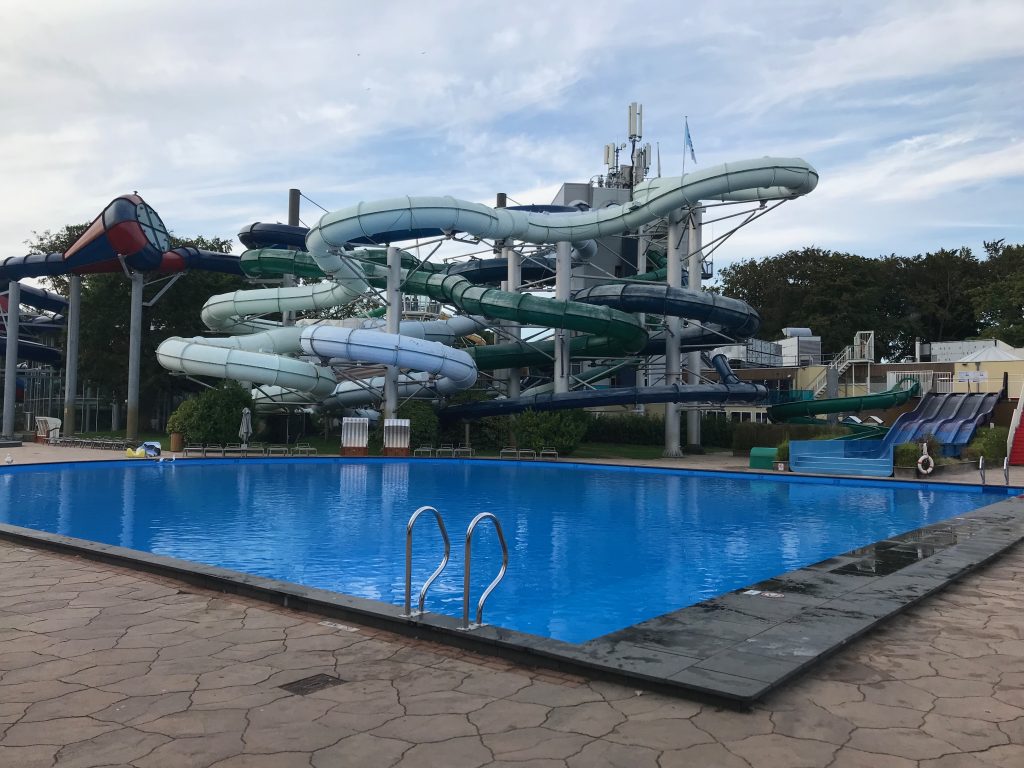 For customers who have booked with Canvas or Eurocamp swimming is not included in your accommodation cost, but you do get it at a discounted rate. When you arrive you are provided with vouchers which give you exclusive codes which give you a discount. The number of vouchers you get seems a little bit fluid depending on who checks you in and when we arrived we stayed for three nights, but the Canvas check in team gave us two vouchers and told us that if we wanted more we should just go and ask for them.
These vouchers are not linked to one particular person so it is possible to pass unused vouchers on to someone else. Each paper voucher contains an exclusive booking code though and this can only be used once.
With Canvas or Eurocamp provided vouchers the indoor pool cost €10 per person for two hours, and the outdoor pool cost €5 per person for four hours. I expect these costs will increase in 2024 in line with the discounts Duinrell provide for campers. Should you not have any vouchers you can still book swimming slots, but they are double the price – so approximately €20 indoors, and €10 outdoors. Canvas and Eurocamp customers are also limited as to when they can swim, with them only being able to book slots between 10am and 2pm.
How to book your swimming slot
Whilst I believe it is possible to turn up at either pool and if they have availability just pay there, the way you're supposed to book a swimming session is via the Duinrell app (available on both Google and Apple apps stores). You can only book for the same or next day (preventing people from booking everything up way in advance) and the process is incredibly simple with you just entering voucher codes, how many people want to swim and then paying (if you have to) via the app. You get emailed tickets which come with a QR code per person. For the indoor pool you book a 2 hour session, and for the outdoor pool a 4 hour one during the summer period. Between November and March the visits to the indoor pool are extended to 3 hours.
When you get to the pool
Things are pretty slick when you get to the Tiki bad. Upon entering you are faced with turnstiles and each person has to scan the QR code from their booking email. This times you arrival at the pool. In addition to the booked session you also get an additional 30 minutes to change and shower.
At the indoor pool you head upstairs for changing cubicles and it's a unisex arrangement with a few larger cubicles for families. The lockers are free of charge, but a bit complicated. You have to choose a four digit PIN number and you enter it on the touch screen. They then allocate you a locker in that bank and the door opens for you. It's important to remember both your locker number and PIN for when you return after your swim.
Swimmers are asked to shower before entering the pool as well as afterwards.
Around the pool are a variety of seats and sun loungers that you can leave towels and other things on. There is also a pool-side restaurant with food and drink available. If you're not planning to eat or drink then you don't need to take any money in with you at all. You just need the QR codes from your emailed tickets.
When you leave the centre you again need to scan your QR codes at the turnstiles and it will work out how long you have been there. If you've gone over your booked session and the 30 minutes given for showering and changing then you are charged more before being let out.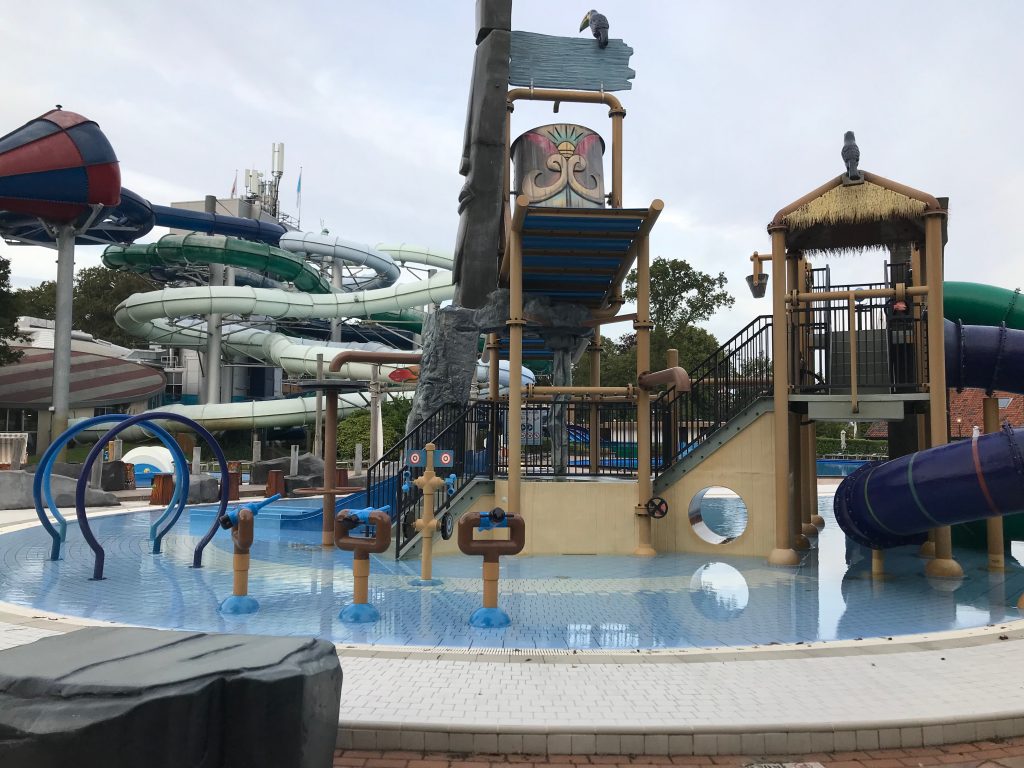 Our thoughts
I'm not going to lie – the swimming system at Duinrell is a right faff to get your head around. If you're going just for the swimming then for a large family it can work out quite pricey. It is an amazing waterpark and for just two days and two visits we had we didn't mind paying, but had we been there longer I'm not sure we could really have afforded to swim more. Once you've got your head round it all you can make it work, but it certainly leaves many people feeling very confused before they arrive. I really hope this has helped you understand the system a bit better and answered the question: How does swimming work at Duinrell.