With more and more of us opting not to fly places driving to Europe may be an alternative option, but it does leave the question of what do you need to drive in Europe from the UK? It can seem quite daunting at first, but having just done a road trip from the UK to The Netherlands (via France and Belgium) I can tell you that it's actually quite straightforward.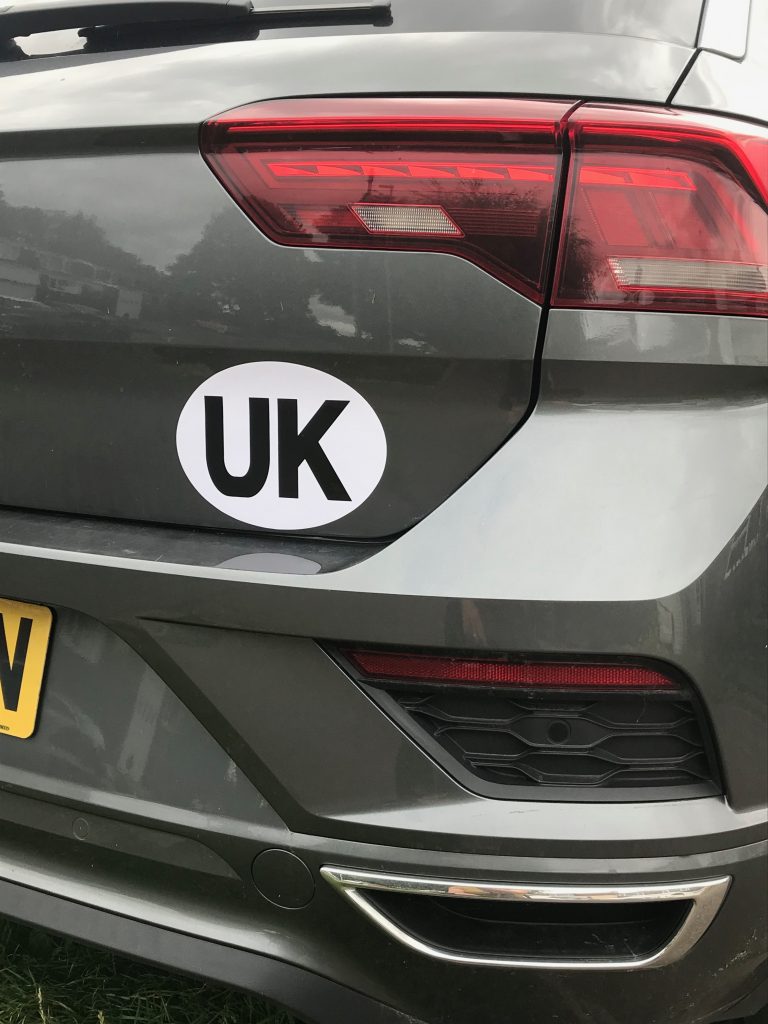 Don't just think about your destination, but where you're driving through too
Each country in Europe has different rules, but you need to remember that you need to follow the rules of all countries that you drive through, not just your final destination. The chances are that if you're going from the UK you're likely to arrive in either France, The Netherlands or Spain, so even if that country isn't your final destination you need to take into account their rules too. In our case The Netherlands was our final destination, but we also had to look at France and Belgium's requirements too.
When it comes to working out what do you need to drive in Europe from the UK you can break it down into physical things in your car and paperwork.
Physical things in your car
UK sticker
Rule changes post Brexit mean that GB stickers are no longer valid, and what you actually need is either a UK sticker to go on the back of your car, or small add on stickers to your front and back numberplate showing UK. The most economic way is to buy a set of both types of stickers. That way you also have spares should one version come off. Being the cautious types, this is exactly what we did.
Headlight Beam Converters
As I hope you already know, they drive on the right in mainland Europe, but car headlights here in the UK are set up for driving on the left. So that you don't blind drivers coming towards you, it's important that you either use headlamp beam converters, or look and see if you can change the settings in your car for right hand side driving and change the light set-up that way.
Hi-viz jackets
You need to have hi-viz jackets for all occupants of your car, and these need to be in the cabin of the car, not tucked away in the boot somewhere. Hopefully you won't need to wear these at all, so even if you have kids you can just buy adult sized ones for everyone, but it is possible to buy a family pack with two adult and two child sizes in it.
Warning Triangle
Some cars come with one of these tucked away in the boot, especially if you have a German car, but it's a good idea to have a warning triangle even if you're here in the UK as it gives you some added protection if you have to stop somewhere that might not be immediately visible to other drivers.
First Aid Kit
A decent first aid kit is another thing that it's a good idea to have in the car anyway, especially if travelling with children. I find that I add extra plasters to mine, along with bite/sting cream and paracetamol (and Calpol sachets for the kids).
Do make sure that you regularly check your first aid kit and replace things that have been used up or have gone out of date. Any cream in there (like Savlon or similar) can separate a bit if the weather has been hot, so they might need replacing before they are used up.
Spare bulbs and fuses
There's a funny rule in France that means you have to carry a set of universal spare bulbs and fuses for your car. As anyone who has ever stood in Halfords trying to buy a new car bulb will know, finding the right one for your car can be an absolute pain and the idea of a universal set of bulbs that work in all cars is laughable, but even still, it's something you have to have.
All in one kit
If you're feeling at all daunted by the long list of things you need to drive in Europe from the UK, don't worry. It's possible to buy a set that contains pretty much everything I've listed above. Or at least a combination of the things listed.
Paperwork
It's really important to check all paperwork properly before you travel. Make sure that you read the small print and check country lists to make sure that everywhere you drive through is mentioned, not just your final destination.
Driving Licence
UK Full Driving licences are valid for driving in Europe. Just make sure that you take your licence with you.
Car Insurance
This is one of those things that you need to read for yourself, very carefully. Many UK fully comprehensive car insurance policies cover driving in Europe, or certain European countries for a period of time each year. It's not possible to give a sweeping statement about what is valid there and what isn't, but check your own policy documents and if in doubt give your insurance company a ring, or check their website. Take your policy documents, or a print out of them with you on your trip.
V5
Sometimes known by drivers as the car log book, the V5 form from the DVLA shows who owns the car and what address it is registered to. Some countries require you to carry this with you, so it is wise to do so. I also recommend taking a photo of the form and keeping that on your phone too. That means that if the paper version is mislaid you at least have all the relevant numbers on it to help you report it lost to the DVLA and help you get it replaced.
Breakdown Cover
Whilst not compulsory, would you know who to call if you broke down whilst driving in Europe? I certainly wouldn't had I not looked into it before we travelled.
It's possible to buy European Breakdown Cover from all the main providers (AA, RAC and Green Flag) as well as some smaller companies. Policies can be either annual or just cover the duration of your trip. Some comparison sites can help you compare prices. I also highly recommend clicking through from a cash back site like Topcashback before buying. You could easily get over 10% of the cost back as cash back for doing so.
Do your research first – speed limits, road signs and tolls
Different European countries have different speed limits and road signs. It's worth trying to familiarise yourself first with the key signs and limits from the countries you're driving through. A quick internet search should help you, and it might even be worth printing off a few so that someone in the car can help look them up if you spot any you don't know.
Depending on where you are going, you might encounter toll roads or bridges or tunnels that require you to pay a toll. Many European towns and cities also now have Low Emission Zones (ULEZ) in their centres. A good Sat Nav will help you avoid them if you want to, but it also helps to make sure you have a selection of Euro notes and coins to hand in the car. Some tolls require you to pay online within a certain period, but some tolls can be cash only for some lanes.
Final things to check
The above list has hopefully helped answer the question of what do you need to driving in Europe from the UK, but before you set off from home make sure you've checked your car over first. Make sure you have a full tank of fuel, topped up washer fluid and the correct air in your tyres too. Experience also tells me that a long car journey is easier with a good selection of car snacks too!
Want some European travel inspiration?
If you're still not sure where you want to visit in Europe, then why not take a look at some of the places we've been to for inspirations or some handy travel hints?
Disclaimer: Please note that some of the links in this post are Amazon Affiliate links. This means that if you click through to Amazon and make a purchase I will receive a (small) commission. It will cost you no more than if you had arrived there under your own steam. Many thanks for any purchases that are made. Despite it being small, any commission is very much appreciated.