Flying with a baby. It seems to be one of the subjects that attracts the most questions on parenting forums across the internet. What are you able to take with you? How do you carry your baby? How do you stop them screaming for the whole flight? I can't promise to have all the answers, but what I can do is share our experiences with you.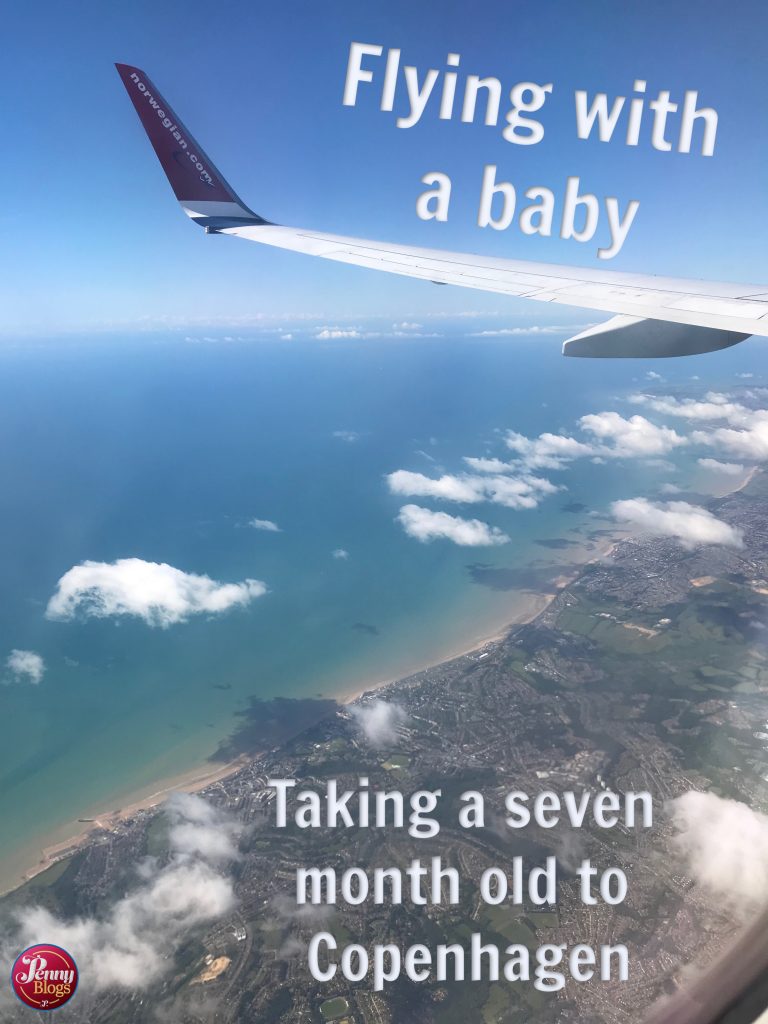 When she was just seven months old we took Tube Stop Baby with us on a work trip to Copenhagen. This was the first time she had flown and we were intrigued to see what she would make of the whole experience. The flight time was about an hour and a half and we flew with Norwegian from London Gatwick Airport to Copenhagen, and back again five days later.
How much baggage can a baby carry?
The first thing I would advise is planning. Travel as light as you possibly can, but at the same time make sure you have everything you need. Each airline varies in terms of baggage allowance for an infant who is travelling on a parents lap. In our case she got no carry on allowance, but was allowed 5kg in the hold which could either be a separate bag, or added on to the weight allowed for our bag. We were also allowed to have an extra stroller and car seat in the hold. More on those in a minute though. Airlines are normally very clear about what you can take for a baby. Just ask them if you're unclear.
Carrying milk and baby food on a flight
In our carry on luggage we made sure we had a few toys to keep her entertained, what we needed for nappy changes, a couple of muslins and the milk and food that we would need for the journey. Despite all the rules about liquids being carried on flights you are allowed to take milk and pureed food for babies. The wording suggests that it is as much as is required for the journey. We formula feed so I took water in three bottles and a powder dispenser to be able to make up three bottles worth. I also carried about four pouches of pureed food for her too.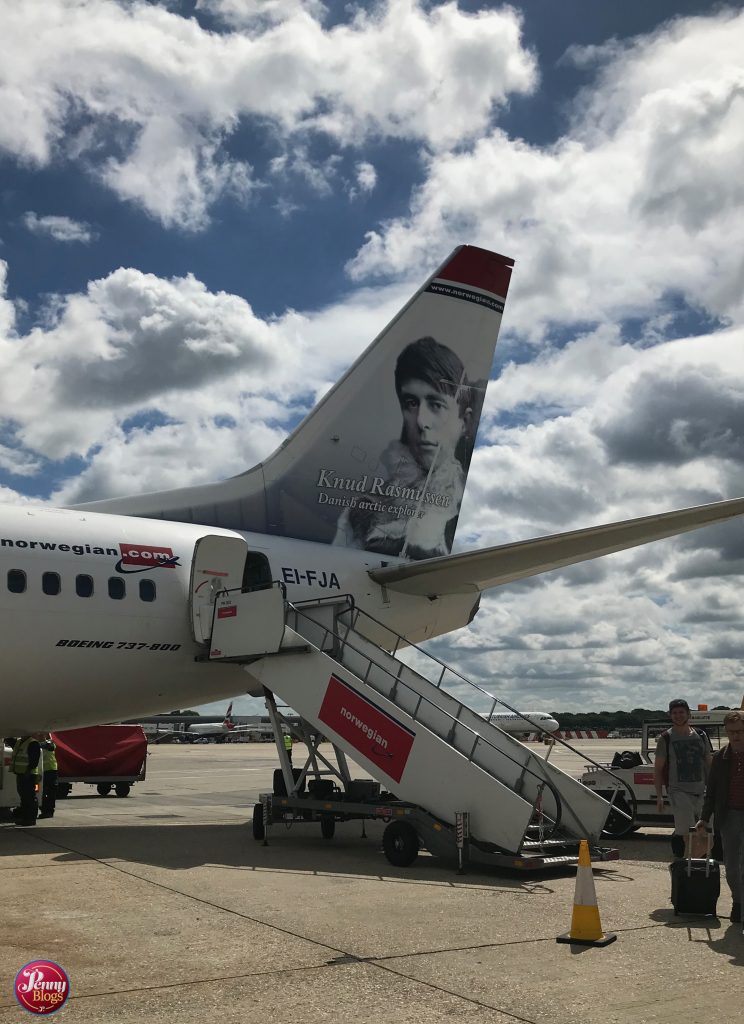 When you go through security you will need to separate out all liquids before your bags are scanned, and the same is the case for baby milk and pureed food. I put all the pouches in a clear plastic bag so I could pull them out quickly, and also took out the three bottles. As expected when the tray went through the scanner it was diverted to be inspected. The official simply saw I was travelling with a baby and he took the three bottles and a couple of randomly chosen pouches of food away to be tested. This only took a couple of minutes and involved them putting the bottles and pouches in some fancy machine which was obviously testing to make sure they were what I'd said they were. The whole process only took about ten minutes longer than usual.
As we went through her pushchair was also checked over by an official and as her and her dad beeped when they went though the metal detector an official just checked her over whilst her dad went through the next stage of scanner. The whole process was quick and relatively simple and painless.
Pushchairs, strollers and baby carriers
For the outbound flight we were able to keep her pushchair with us until the gate. At that stage we had to collapse it and leave it with staff before we went down to board the plane. I took with us an Ergobaby carrier and simply put her in that once I got her out of the pushchair. This gave me my hands free for bags etc whilst getting on the plane.
I would very highly recommend taking a baby carrier of some type with you. When you land you normally don't get your pushchair back until baggage reclaim, so if you have a sling or carrier then you can keep the baby in that as you go through passport control and get to baggage reclaim. Trying to hold a baby in your arms whilst getting off a plane and hanging on to your passport isn't easy!
When we flew back from Copenhagen it was just me and the baby and unfortunately, despite flying with the same airline, the rules were suddenly different and we were told that our buggy had to immediately go to excess baggage and be checked in that way. Thank goodness I had the sling and a newly purchased comfortable rucksack on my bag with everything in as otherwise I would have really struggled going through the airport.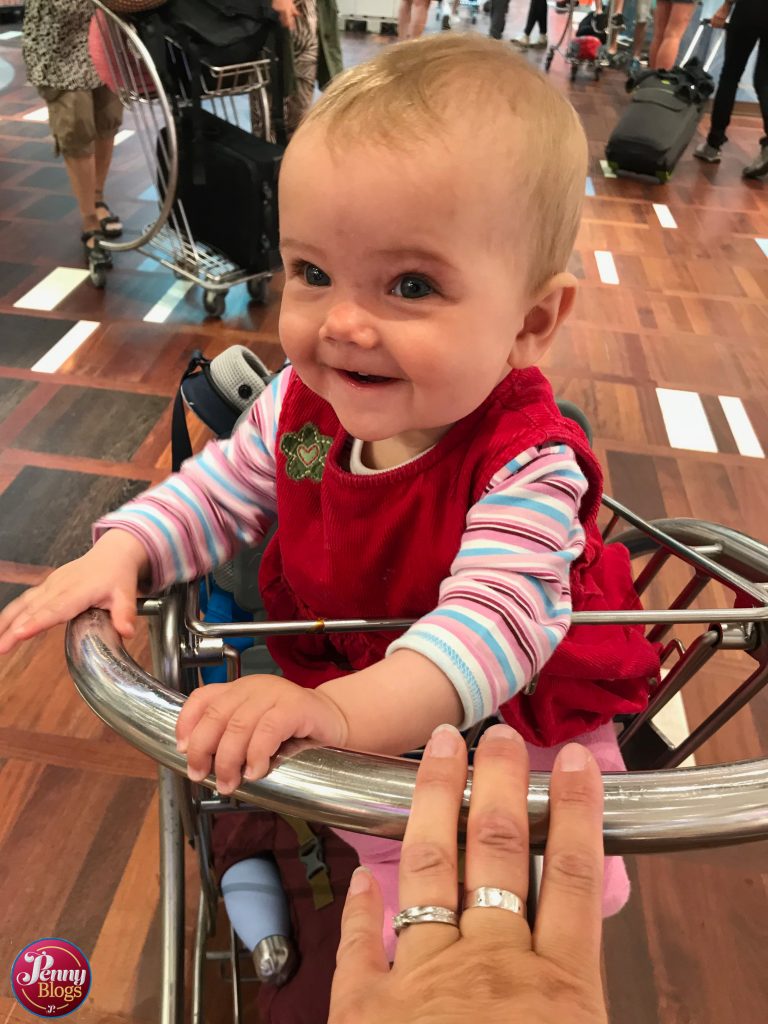 After security we were able to pick up a free mini-luggage trolly that had a child seat in it. Luckily TSB is 7 months old and could sit up in it. Otherwise I'd have had to carry her the whole time.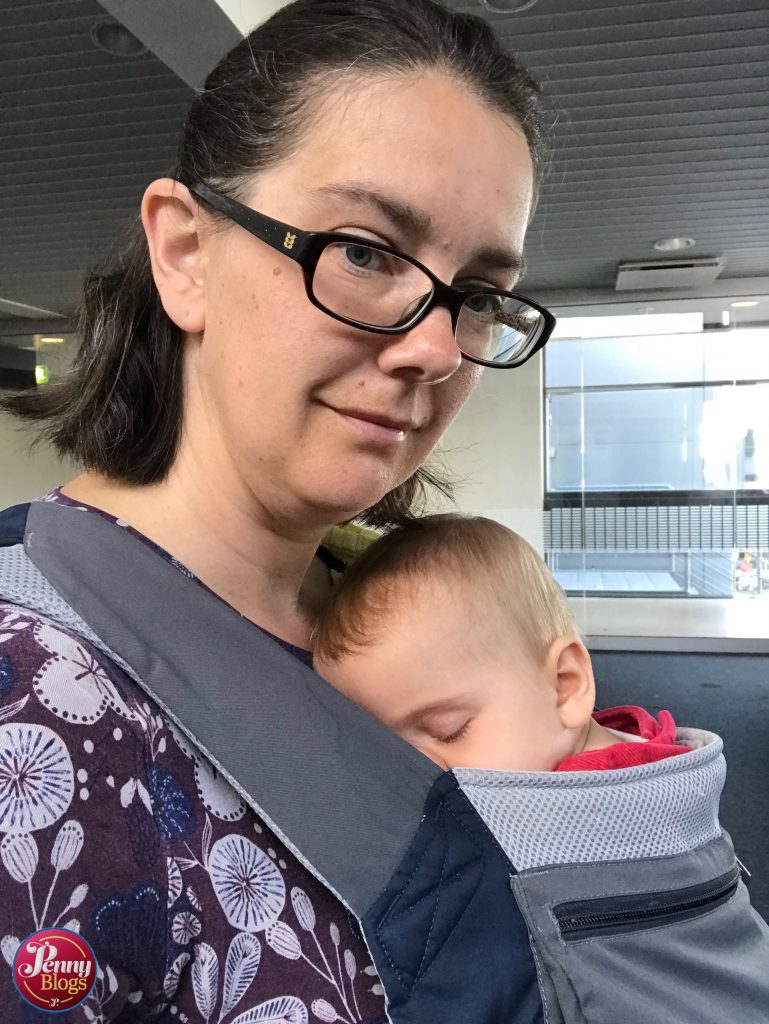 The other advantage of having the sling was that when she needed to take a quick power nap as we waited at the gate she could.
Infant belt
When travelling on your knee you get an extra infant belt for your baby. You feed your seat belt through this, and then close their belt with the usual aeroplane mechanism. If you're in any doubt as to how it works ask a member of staff on the plane. It is also likely that they will provide you with an infant life-raft and instructions as to how and when it should be used.
Keeping baby comfortable during the flight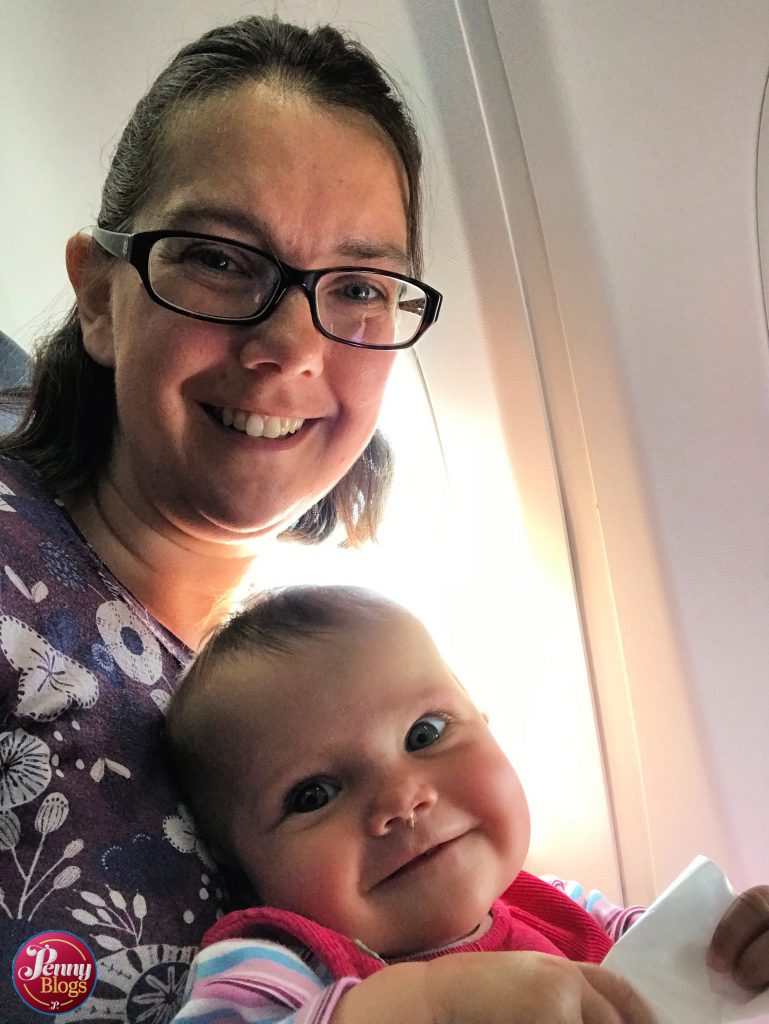 For most babies the white noise on the plane helps them sleep. The only time that TSB got upset (apart from when she tried to steal the Kit Kat from the lady in the next seat) was when the pressure made her ears hurt on take off and landing. The simple solution to this is to get your baby to take milk at those points in the flight. This could either be through breast feeding or from a bottle. Whichever it is the act of sucking and swallowing will help them balance the pressure as the plane gains or loses altitude.
Our experiences
The only part of our actual journey that was hard work was when I unexpectedly didn't have the pushchair up to the game in Copenhagen on our return journey. Had there been two adults it wouldn't have been as difficult, but on my own it was tough. Luckily lots of other passengers offered to help at various points, but it did really show me the value of a good sling and packing light and in an organised fashion.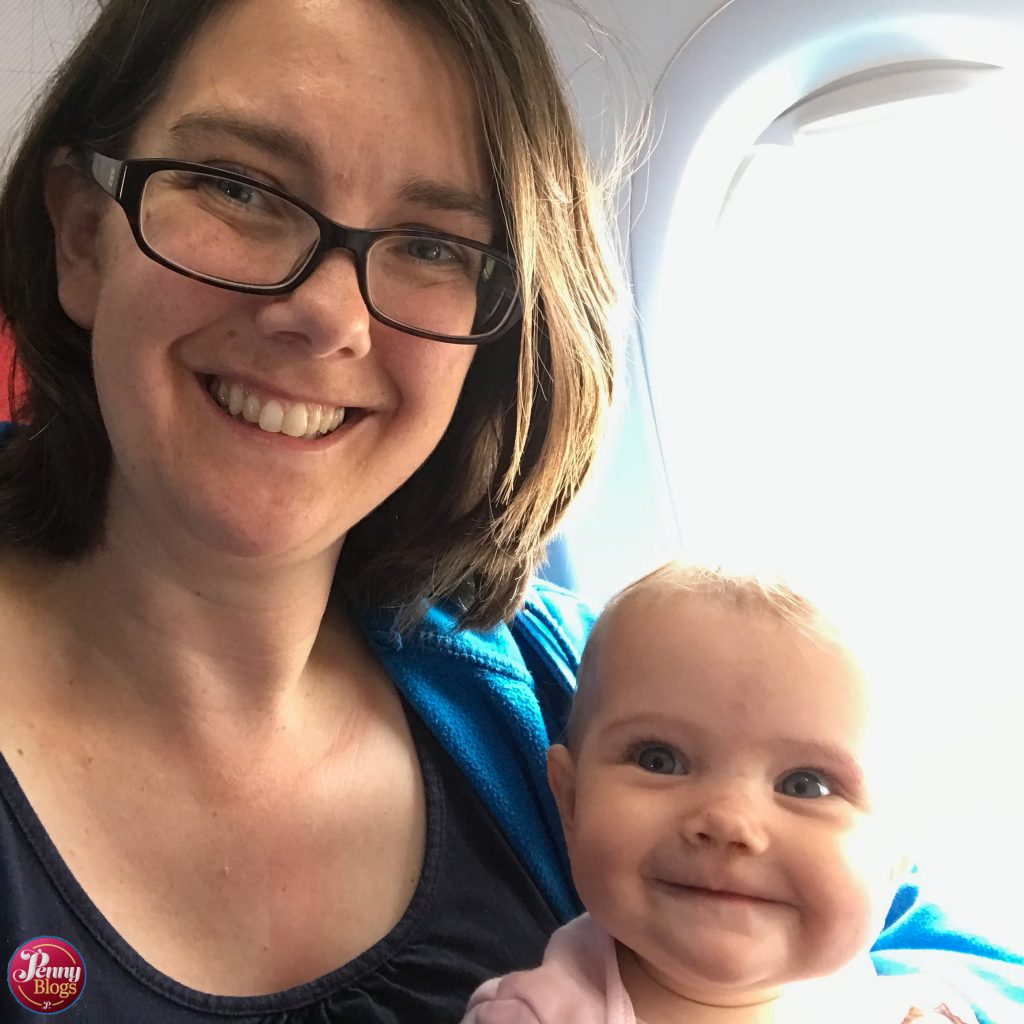 I certainly don't feel as daunted by the whole process anymore, but at the same time, if I can make sure I'm not travelling alone with her next time it will be far easier!
Disclaimer: All mine and TSB's flights were paid for by us. All choices regarding airline was down to recommendations and flight times. All products mentioned were paid for by us. We received nothing for writing this post. This post contains affiliate links. If you make a purchase through them I will receive something but it will cost you nothing more.