When I heard that Bonn had another job over on the Isle of Wight I knew I had to go with him. Heck, one of the first conversations the pair of us ever had was about the island's train service (a post on that soon). The place is a transport geek's paradise. Now only do you have vintage tube trains providing a mainline service. But there is also the geekiest method of sea travel known to man. The hovercraft.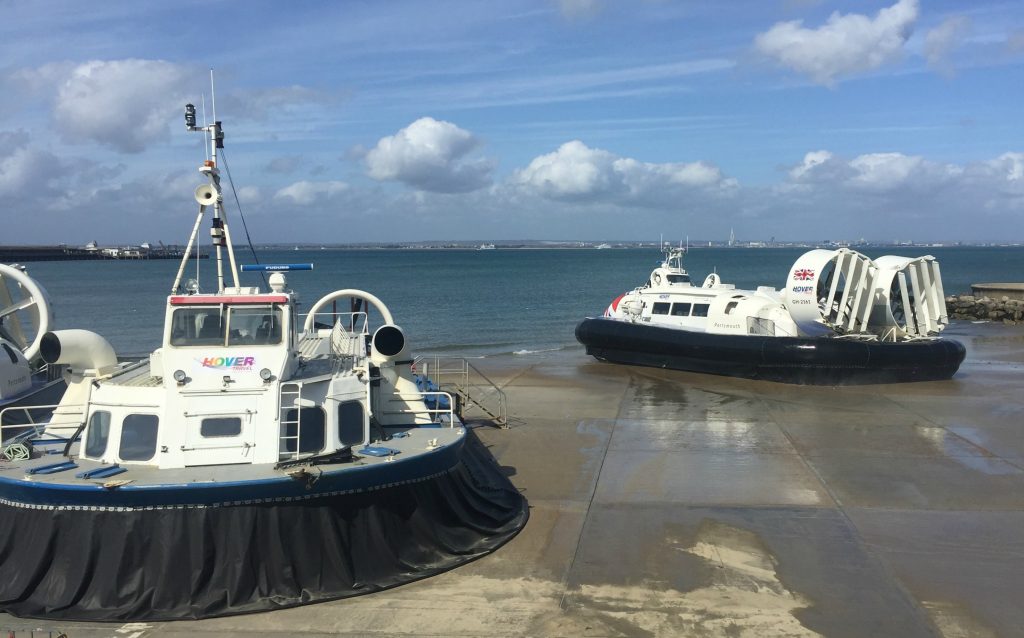 Hovercraft to the Isle of Wight
Hovertravel have been providing passenger hovercraft services between Portsmouth and Ryde since 1965. In fact, it's the only commercial hovercraft service in Europe. Can you get any geekier than that?
The fact we had to take a car with us meant that we travelled over to the Isle of Wight by more traditional car ferry this time. We're determined however to take the hovercraft next time. Even if it does mean going backwards and forwards across the Solent a couple of times to make the logistics work! With it only being a ten minute journey that shouldn't be too problematic.
If you're on the island there's a fantastically positioned footbridge over the train line that provide a brilliant vantage point. You can stand there and watch the hovercraft arrive and depart for as long as you want. I can promise that you'll be astounded at their turnaround time.
That's one of the big advantages of a hovercraft for foot passengers. The fact that they can just pull up onto a beach or other landing area means that there isn't time spent docking. You also therefore don't need so much infrastructure to support them.
And not forgetting. It just looks damn cool!
Understanding how it works
I'm pretty sure that any true transport geek wants to get their head around how the hovercraft actually works. That's where the wonderful Ladybird books has all the answers for you.
Collecting vintage Ladybird books is one of my hobbies and I was therefore thrilled to see a copy of their "How It Works – The Hovercraft" book when I was in the Hovertravel terminal in Ryde. You can read all about it here and pop over to their website to buy a copy online too.
Hovertravel provide a passenger hovercraft service between Southsea, Portsmouth and Ryde, Isle of Wight. In Portsmouth there is a Hovertravel run Hoverbus that connects Southsea to Portsmouth Harbour. In Ryde it is only a short walk to Ryde Esplanade station on the Island Line and Ryde bus station. You can find out more about Hovertravel, including their timetable and fares, over on their website.