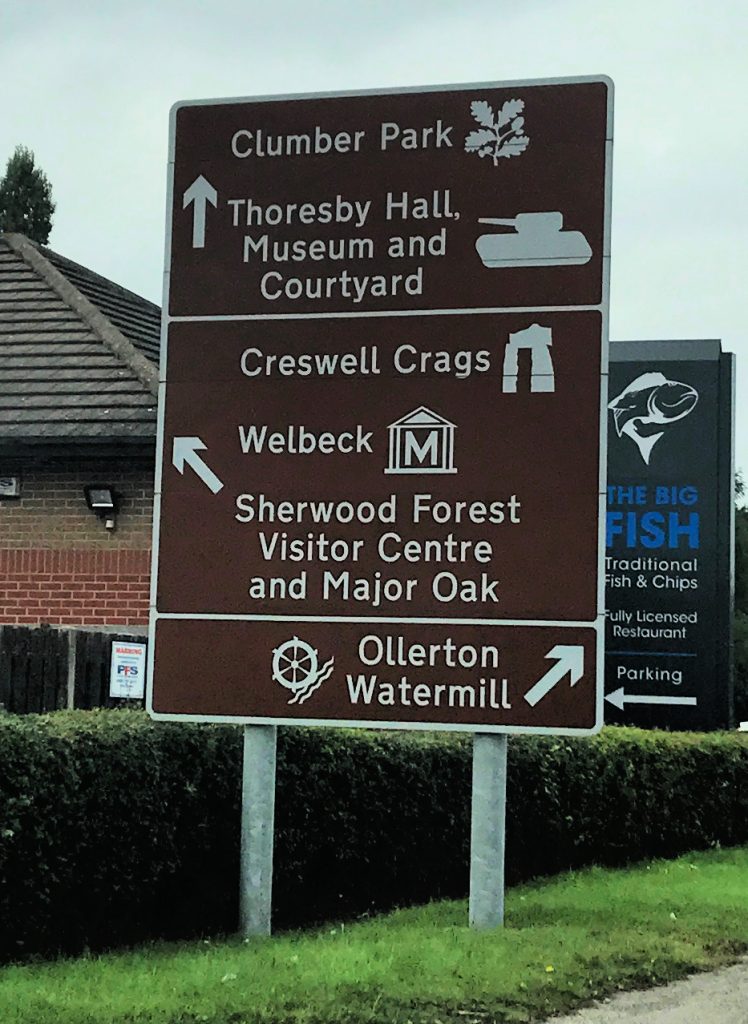 Over the years I've become more and more obsessed with the brown tourist signs that you see dotted around the UK. Designed to direct tourists to places of interest they give me such a weird, warm and fluffy feeling about a time gone by when people navigated by maps rather than Sat Navs and couldn't just look up on their phone to decide where to stop next. I remember as a child in the 80s how the sight of the crossed fork and spoon (why?) would be a welcome sign on the A1 when my sister and I were starting to feel hungry in the back of the car.
Several years ago I discovered the marvellous Follow The Brown Signs site and lost many an hour on it marvelling at the more obscure signs that you can find across the country. Then Covid happened and initially none of us could go anywhere, and then the spontaneity of just randomly stumbling upon tourist attractions was effectively banned with everything having to be pre-booked. After that everyone started misusing the work "staycation" when they actually meant a holiday in the UK. This country of ours has some absolutely fascinating places to visit, and I'm firmly of the belief that no one should look down on UK based holidays (or proper staycations where you do day trips from home) at all. Seeing as Follow The Brown Signs no longer seems to be updated I thought I should make an effort to record all the brown signs that we spot on our travels (including the unofficial ones not on the list of 93 types!) and to follow as many of them as possible.
The definitive list of "official" brown tourist signs:
Agricultural Museum
Air Museum
Antiques Centre
Aquarium
Battlefield
Beach
Bird Park
Birds of Prey Centre
Boat Hire
Brass Rubbing
Brewing Museum
Bus Museum
Butterfly Farm
Campsite
Canoeing
Caravan Site
Castle
Cathedral
Cider Farm
Cinema
Country Park
Craft Centre or Forge
Cricket Ground
Cycle Hire
English Heritage
English Nature Reserve
English Tourist Board Approved Attraction
Farm Trail
Fishing
Flower Garden
Football Ground
Forestry Commission
Fountain, Spring or Spa
Heavy Horse Centre
Heritage Railway or Railway Museum
Historic Dockyard or Maritime Attraction
Historic Scotland Attraction
House of Historic or Architectural Interest
Ice Skating
Industrial Heritage
Information Point
Lighthouse Open to the Public
Motor Museum
National Trust Scotland
Nature Reserve
Outdoor Pursuit Centre
Picnic Area
Pottery or Craft Centre
Property in the Care of CADW
Racecourse
Rare Breeds
Roller Skating
Roman Remains
RSPB Reserve
Rugby Ground
Safari Park
Scottish Tourist Board Approved Attraction
Ski Slope
Sports Centre
Swimming Pool
Tenpin Bowling
Theme Park
Tower or Folly
Tram Museum
Unique or Unclassified (a person walking)
Viewpoint
Vineyard
Watersports
Welsh Museum or Art Gallery
Welsh Tourist Board Approved Attraction
Wildlife Park
Windmill
Woodland Recreation Area
Woodland Walk in Coniferous Forest
Woodland Walk in Deciduous Forest
Youth Hostel
Zoo
If you're interested in obscure, unofficial, brown signs – the likes of dinosaurs and penguins – then please take a look here.