With the Half Term fast approaching I've been pulling together a local guide for October Half Term in and around Dunstable. There's an obvious Halloween slant to some of the events being held, but it's also possible to find some non-spooky attractions to take your little ones to.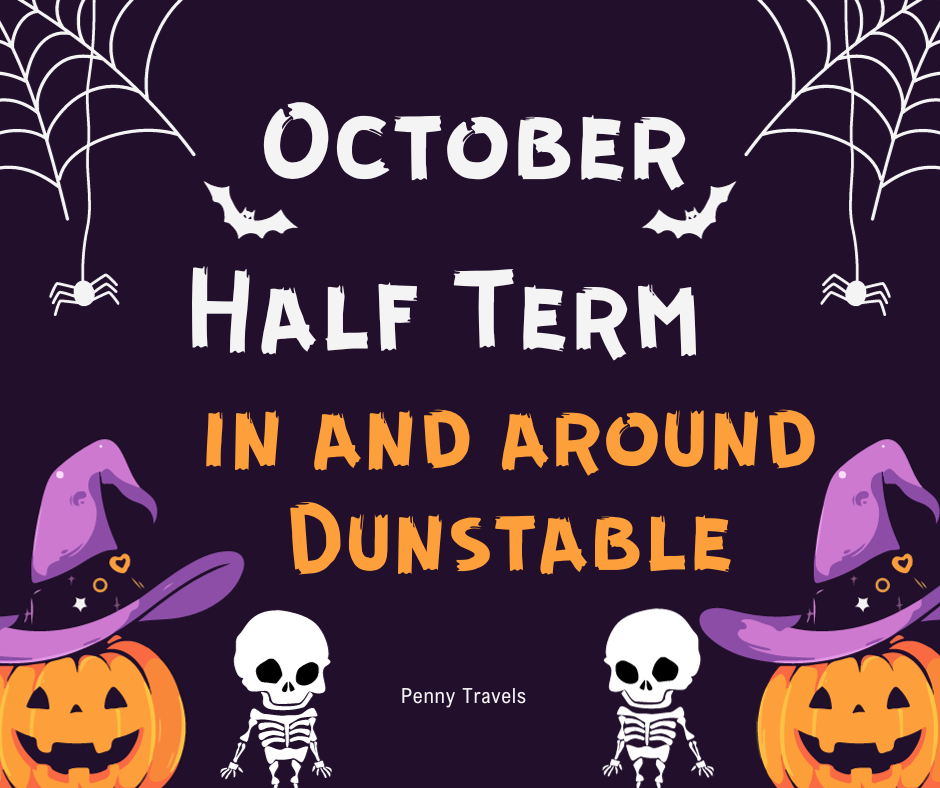 In Dunstable
Pumpkin Party at The Quadrant Shopping Centre
Organised by Dunstable Town Council there is a FREE Pumpkin party taking place in The Quadrant Shopping Centre on Wednesday 25 October from 11am to 2pm. There's a pumpkin trail, arts and crafts, face painting and spooky golf. Full details here.
Dunstable Library Halloween Party
Promising ghoulish games and creepy crafts, Dunstable Library is hosting a Halloween Party for children aged 8+ on Thursday 26 October from 6.30 – 8pm. Call the library on 0300 300 8056 to book your FREE ticket. There's also a prize for the best fancy dress. Further details here.
Houghton Hall Park Halloween Potion Trail
Taking place on Sunday 29 October from 11am to 3pm Houghton Hall Park is hosting a Halloween Potion Trail for children aged 3+. "Houghton, the witches cat, is on a mission to find the missing recipe for his mistresses' magic potion which has been jumbled up by the naughty Halloween ghost. With the aid of your magical spy glasses help him decipher the recipe then come back to the Visitors Centre to claim your prize and make your own potion!" The trail costs £6 per child and you must book a timeslot in advance vis their website here.
A Witch In the Woods at the Dunstable Downs
Running all week from Saturday 21st to Sunday 29th October The National Trust team at the Dunstable Downs is running a Witch in the Woods trail and craft activity for children. "Our resident witch needs a helping hand to bring the magic back to her woodland home. Make your very own wand and join us on this mystical trail down to Chute Wood". This costs £3 per trail and craft and no booking is necessary, just turn up at the Visitors' Centre. Full details here.
Spooky Afternoon Tea at the Dunstable Downs
Children can enjoy a scary sandwich, spooky sweet treat and spell-binding soft drink at the Dunstable Downs visitors' centre from Monday 23rd to Friday 27th October from 12 noon to 3pm. This costs £8.95 per child (and £5.95 per adult – for coffee/tea and seasonal cake) and you need to book in advance which you can do here.
The Sooty Show at the Grove Theatre
Sooty, Sweep and Soo are celebrating 75 years in show business with a special party performance at Dunstable's Grove Theatre at 2.30pm on Saturday 28 October. With tonnes of laughter and audience participation The Sooty Show is the perfect family trip out to round off half term. Tickets are available via The Grove Theatre's Box Office here.
Forest School Session for SEND Children
A FREE Forest School session of activities and a hot chocolate and a biscuit for SEND children aged 3-7 and their families (siblings welcome up to the age of 12). CHildren must be accompanied by a parent/carer. This session will take place in all weathers so please make sure you are all dressed appropriately.
This event is run by Dunstable Children's Centre, Oakwood Avenue, Dunstable and takes place there on Wednesday 27th October between 10.00am and 11.30am. Numbers are limited so please contact the children's centre to book, or for any other enquiries. Call 0300 300 8104 or email dunstablechildrenscentres@centralbedfordshire.gov.uk
Sketch and Paint at Dunstable Library
A FREE event for children aged 5+, led by library staff that will include a range of different materials to use as well as guidance books and sheets. Book via the library. Either in person or on 0300 300 8056. Full details here.
Spooky Movie Night at Dunstable Library
Children ages 8+ are invited to Dunstable Library for a spooky movie night on Saturday 28 October from 4.30pm – 6pm. Tickets are FREE, but book via the library on 0300 300 8056. Full details here.
Just outside Dunstable
Boo at the Zoo at Whipsnade Zoo
Boo at the Zoo returns to Whipsnade Zoo from 21st to the 29th October with a theme of unseen animals – children will get to learn all about the animals who prefer nighttime. There are loads of activities including a halloween disco, a monstrous magic show, a costume contest, spooky storytelling, a ghoulish ghost tour, creepy crafts and pumpkin painting (an extra charge for this), a ghostly trail on The Great Whipsnade Railway (again, an additional charge for this), and animal talks about those nighttime preferring animals.
Normal zoo tickets are required (book here) and as pointed out above, some of the activities do have a separate charge. Full details of Boo at the Zoo are here.
Halloween Fun at Woodside Animal Farm
From Saturday 21st through to Sunday 29th October there is Halloween fun at Woodside Animal Farm in the form of finding witches and ghosts hidden around the farm to win a spooky treat, make a halloween decoration to take home and decorate a yummy spooky cookie. In addition, if you find the golden pumpkin hidden at the farm you can also win a super special prize. For an extra charge you can also pick your own pumpkin from their pumpkin corner. Tickets are £15 each for adults and children, and £5 for child members. Tickets for the Halloween Fun can be booked online here.
Freaky Fun Fest at Mede Open Farm
Running for the whole of half term week (21st to 29th October) the Freaky Fun Fest at Mede Open Farm gives you a Spooktacular family day out all included in your ticket price. There is a new new Freaky Flamenco Fiesta Circus and three spooky walkthrough attractions. Each child can pick a free pumpkin in their pumpkin patch and there's a Monster Mash Mission to complete too. If you book your tickets online you also get a 20% discount on the gate price. Full details of the event are here, along with a link to book tickets.
In Luton
The Unscaredy Scaredy Cat Book Launch at Luton Hat Factory
Formy Books is holding a party to celebrate the publication of their new picture book – The Unscaredy Scaredy Cat. This FREE event is taking place at the Hat Factory Arts Centre on Saturday 21st October from 1 – 4pm and promises books, activities and goodie bags for the children. Full details here.
Hotel Transylvania at Luton Hat Factory Arts Centre
As part of the Family Film Club the Luton Hat Factory Arts Centre is showing the PG rated film Hotel Transylvania on Saturday 21st October at 10.30am. Tickets are £3.50 each (adult or child) or you can buy four tickets for £12. Tickets need to be booked in advance and you can do so here.
Steel Pan Workshop at Stockwood Discover Centre
Ever wanted to learn to play Steel Pan? This is your chance with a workshop at the Stockwood Discovery Centre on Tuesday 24 October. With a guidance of being suitable for children aged 6+ there are two workshops (11.30am and 2pm) but tickets are selling fast. They need to be booked in advance here.
Wow! Said the Owl at Stockwood Discover Centre
Based on Tim Hopgood's picture book, Wow! Said the Owl is a magical combination of storytelling, puppetry and music for 2 to 5 year olds at Stockwood Discovery Centre. There are two performances on Sunday 22nd October (11.30am and 2pm) and tickets should be booked in advance here.
African Drumming Workshop at Stockwood Discovery Centre
A child only workshop for children aged 6+ at Stockwood Discovery Centre on 26 October gives children the opportunity to the beautiful djembe drums and learn the intricacies of playing West-African rhythms. The costs £6 per child (plus booking fees) for a 1 hour workshop and you can book in advance for either the 11.30am or 2pm sessions here.
All Aboard! Ship Inspired Carnival Costume Making at Stockwood Discovery Centre
The UK Centre for Carnival Arts is running a ship inspired carnival costume making session at the Stockwood Discovery Centre on Wednesday 25th and Friday 27th October. All ages are welcome and there is a charge of £4 per child for the 1 hour session. There are four different time slots each day (11.30am, 12.30pm. 1.30pm and 2.30pm) and you can book in advance here.
In St Albans
The Big Draw at St Albans Museum and the Verulamium Museum
The St Albans Museum and Gallery and the Verulamium Museum in St Albans are both taking part in The Big Draw during October half term. The theme is "drawing with senses" so pick up a pack at the front desk and try some of the suggestions as you explore and draw. At the St Albans Museum head up to the Assembly Rooms where on Monday – Friday there will be some drawing activities for your to try. Admission to the St Albans Museum is free. There is a charge to visit the Verulamium Museum if you are not a St Albans resident. Suitable for all ages. At the St Albans Museum The Big Draw is available Monday 23rd to Friday 27th October from 11am to 5pm. At the Verulamium Museum it is 12 noon to 4.30pm Monday to Friday and additionally 11 am to 3.30pm on Saturday 28th October.
Paint your own Mug at the St Albans Museum
To fit in with their Time for Tea exhibition children age 8+ are invited to paint their own mug on Tuesday 24th October at the St Albans Museum. All materials and instructions will be provided at a cost of £7.50 per child. You will need to place your mug in the oven at home afterwards to make it dishwasher proof. The sessions run either at 1.45pm – 3pm or 3pm – 4.15pm. Pre-booking is essential here.
Make your own Tea Pet at St Albans Museum
Apparently in the Gong-Fu tea ceremony there is often a small figurine on the side of the tray, made from leftover clay, to keep the drinker company, meaning they never drink alone. This is a tea pet. Children aged 5+ will be able to learn all about tea pets before making one of their own out of polymer clay. You'll then need to take your pet home and pop them in the oven to make them hard. Sessions run from 1.45 – 2.45pm and 3 – 4pm on Wednesday 25th October at the St Albans Museum. Pre-booking is available here.
Make a Roman Oil Lamp at the Verulamium Museum, St Albans
Children aged 4+ are invited to the Verulamium Museum in St Albans on Thursday 26th October to make a clay lamp, just like those the Romans used to use to light their homes, fuelled by olive oil. Sessions run at 10.30am, 11.30am and 12.30pm at a cost of £5 per lamp. Please note that you will need to pay museum admission on top of this charge. Pre-book here.
Toddler Tales at the Verulamium Museum: If I had a Vampire Bat
Part of the monthly Tots Tales session at the Verulamium Museum on Friday 27th October the focus story is If I had a Vampire Bat. Children between the ages of 2 and 4 are invited to enjoy the story before learning all about vampire bats and take part in some seasonal spookiness. £5 per child(ren) attending. Sessions at either 10.30am or 1.15pm. Pre-booking is available here.
Further afield
Nocturnal Animals at the National History Museum, Tring
A half hour session for children aged 5+ to immerse themselves in the world of nocturnal animals and get hands on with the museum's specimens. Tickets cost £2 each and can be purchased from the shop on the day. Sessions run at various times on Tuesday 24th, Wednesday 25th and Thursday 26th October. Full details (including session times) are available here.
Apple Pressing and Juice Tasting at the National History Museum, Tring
As part of Tring's famous Apple Fair, visitors get the chance to peel, core, cut and squeeze apples to make tasty apple juice, before giving it a taste test in the museum's outdoor area for FREE on Friday 27th October from 10am to 3.30pm. Full details here.
Museum by Torchlight at the National History Museum Tring
On Friday 27th October the National History Museum at Tring is opening its doors after hours for children aged 5+ to explore the galleries by torchlight. Fancy dress is encouraged and children can also create their own scary animal to take home. For £1 there is an additional spooky challenge they can complete. Tickets are FREE buy need to be booked here.
Waddesdon Manor's Haunted Half Term
For all of half term children get into the house and grounds at Waddesdon for free with a paying adult. There's a Trick or Treat Skeleton Trail (£3 per child) where children have to find spooky skeletons around the grounds and work out if their skeleton facts are trick (false) or treat (true). There's a sweet treat from the Waddesdon chef as a prize at the end for correct answers.
On the 21st and 22nd October Zoolab allow you to get up close end hands on with exotic animals in they Creepy Critters show. Suitable for all ages the shows take place at 11.00am, 11.55am, 12.50pm, 2.20pm & 3.15pm. A small event charge is advised and pre booking is essential.
There is a face painter on site on the 28th and 29th October to help children have a spooky makeover. Separate charges apply for this.
Details of all the Waddesdon Haunted Half Term activities are available here along with details of (a rather pricey!) Spooky Afternoon Tea in the Manor Restaurant.
Half Term activities at Milton Keynes Museum
In addition to the regular hands on activities for kids at the Milton Keynes Museum they will also be open all week with spooky Halloween themed crafts and pottery workshops. The Concrete Circus will also be returning to the Museum to keep everyone entertained with workshops throughout the week. Full details here. Usual ticket prices apply, but remember that you pay once and then can return for a year at no additional cost. If you go now your ticket will also cover Christmas opening and all next summer holidays!
All details were correct at the time of writing, but please do go and check with the event organiser beforehand. Penny Travels takes no responsibility for changes that take place after the publication of this article. October Half Term in Dunstable.
If there's a local event that I haven't included here then please drop an email to penny@pennytravels.co.uk