Finding an outdoor activity that will suit kids with ages between 3 and 12 can be a bit of a challenge, but a day out at Wendover Woods in the Chilterns really does tick all boxes. We went with the simple aim of getting out of the house and into some fresh air, but a visit to the Play Trail and then subsequent ice creams from the cafe resulted in three happy, slightly grubby and tired children being bundled into the car at the end of the day with smiles on their faces.
What is the Play Trail?
Wendover Woods has so much to offer visitors of any age, but what exactly is the Play Trail? Well, it's as the name suggests somewhat; a trail through the woods, with numerous stop off points where there are various pieces of play equipment. There are two different trail lengths a short one of just 600m and a longer trail of 1km. You will miss some of the play opportunities if you take the shorter route, but it makes the whole trail more accessible for those with little legs who stubbornly refuse to go in a pushchair for the whole walk. All parents have been there at some point!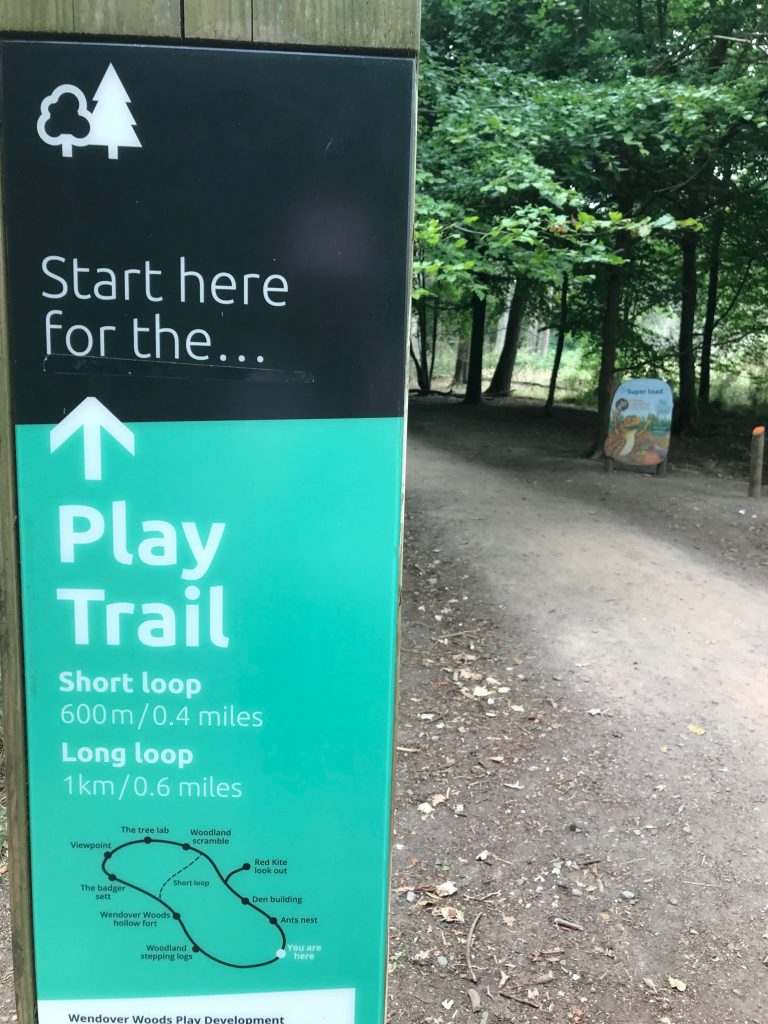 The trail itself if reasonably flat and accessible with any sturdy pushchair. When wet there is likely to be mud in some parts. Some of the play areas involve slopes, in particular the Wendover Woods Hollow Fort. A single kilometre may not sound like very far round, but I think it's actually a perfect length for children of all ages. If they stop at all the pieces of play equipment (as most children will insist on doing) then it can actually take a while to go round, even more so if you have a snack break (or several!) on route too.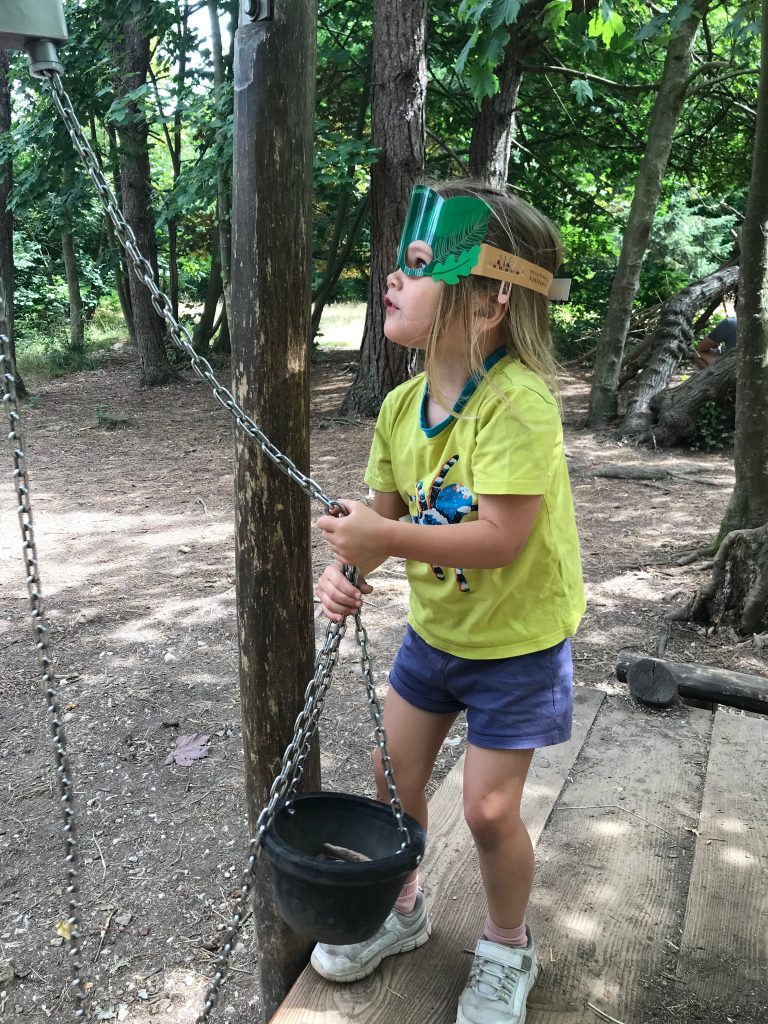 Finding Superworm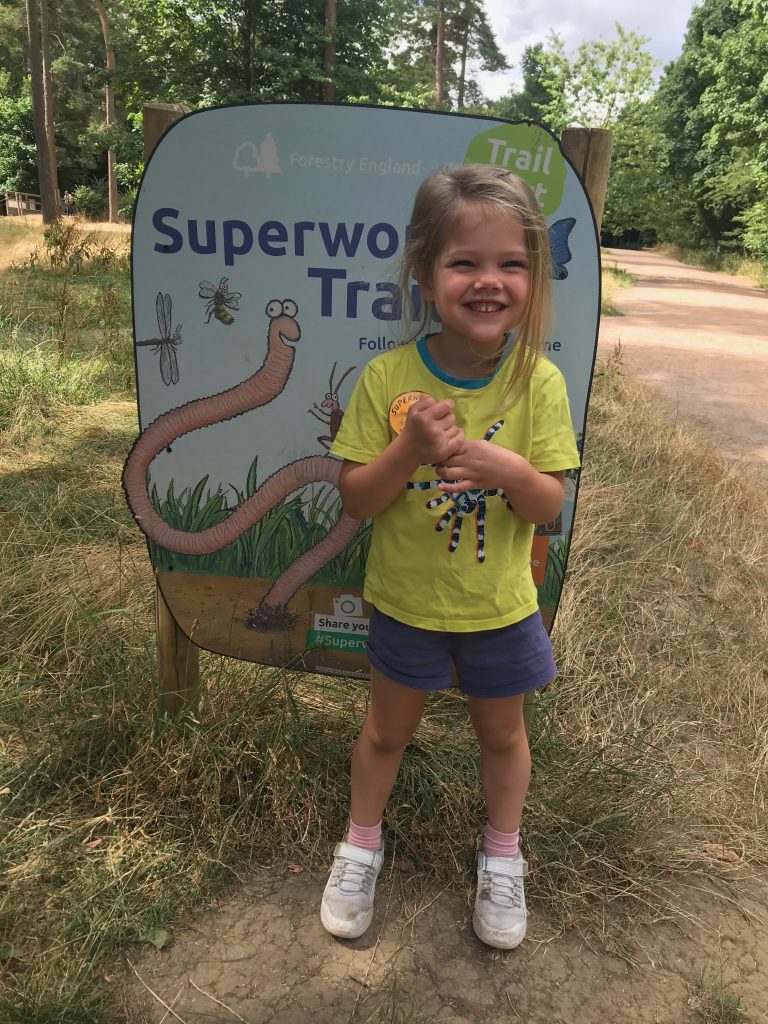 When we visited (August 2022) the play trail was also hosting a Superworm trail. Children were invited to find Superworm and his friends at various points on the trail and at six different points the children could also do a rubbing of an animal or plant.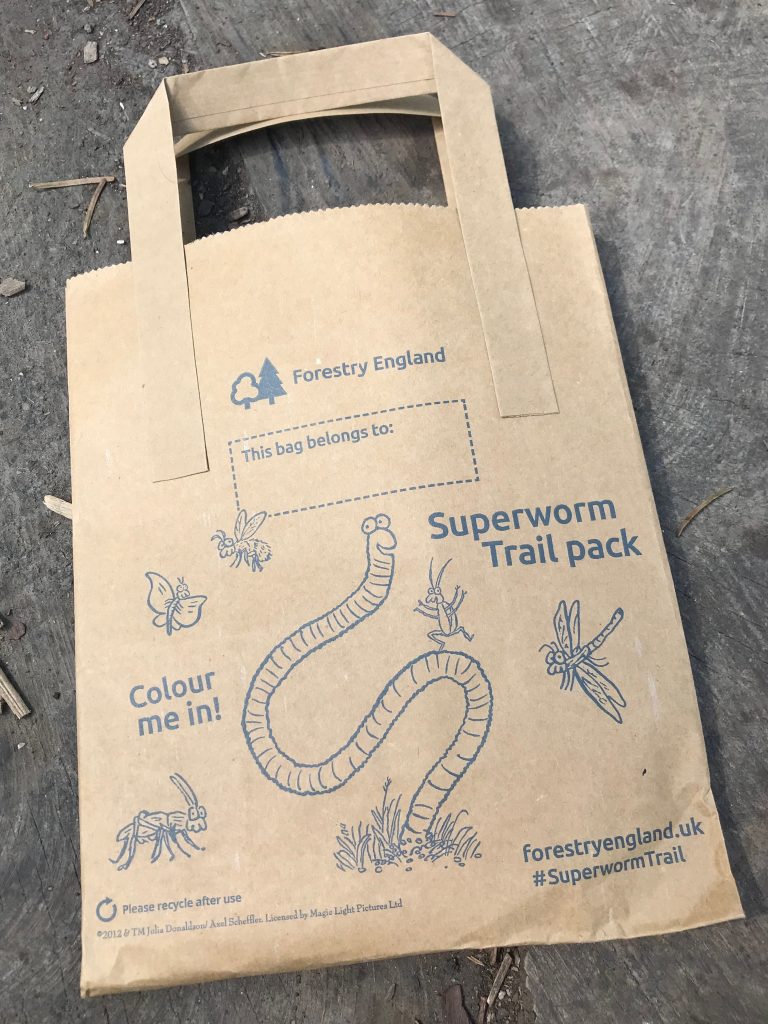 The information centre near the car park sells activity packs for £3.50 each and as well as including a trail activity book, children also get a woodland superhero mask, stickers and some fact filled postcards about some of the animals on the trail. Most importantly the pack also contains a pencil and a wax crayon for doing the rubbings as you go round. It's not compulsory to buy a pack, but it is nice if you want an extra activity for the kids as you go round.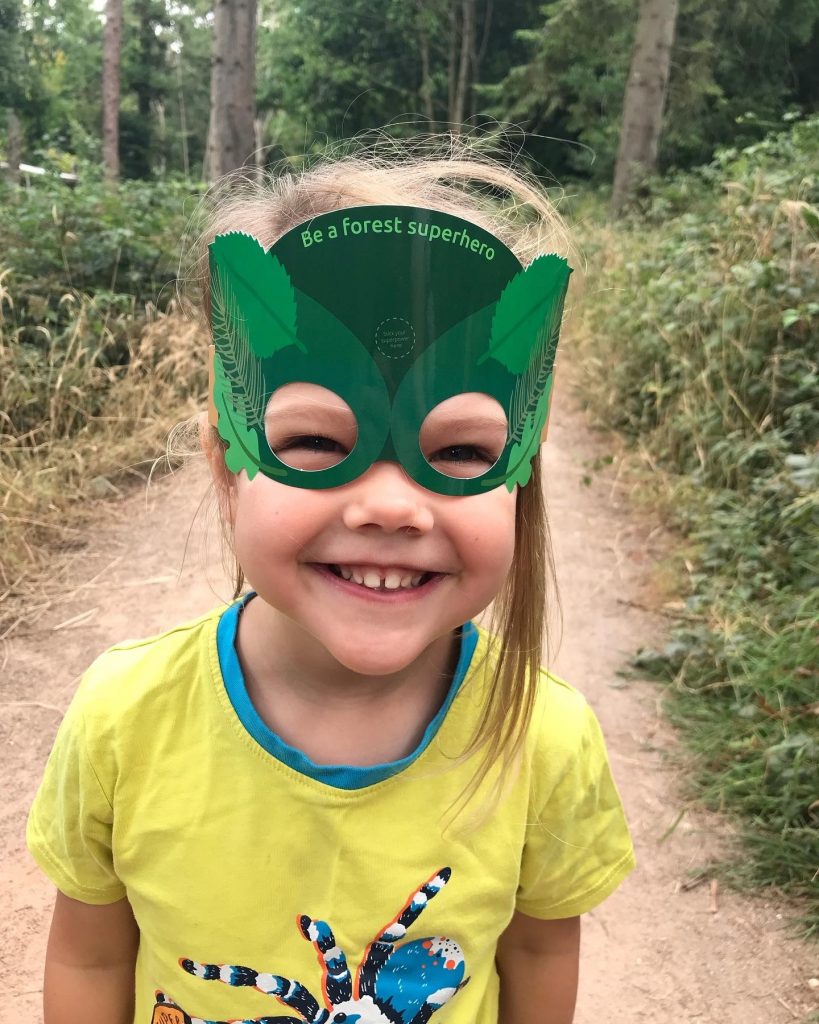 What else is there to do at Wendover Woods?
With walking trails for people of all abilities, as well as cycle routes and numerous playgrounds, Wendover Woods provides plenty of free activities for all the family. In the woods around the main visitor facilities and on the play trail you can find loads of dens which are popular with all children. Some have slightly formal foundations, whilst others are just built from what people have found around them. All of them provide a huge amount of fun.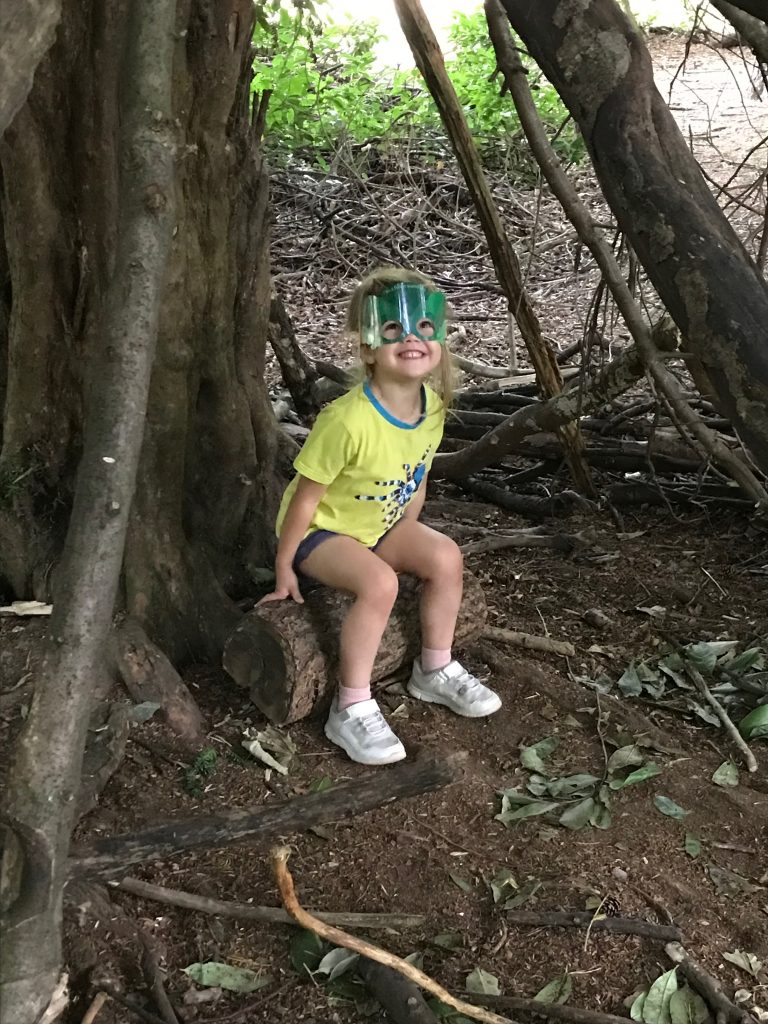 Next to the main car park is a large Go Ape centre and for those of you that prefer to run rather than walk there is a weekly Park Run at 9am on a Saturday morning too.
For Gruffalo fans there is also a large Gruffalo statue, but be warned that at the time of writing this is fenced off as the Gruffalo is due to retire soon and although a replacement is planned staff told me that there's just one man who makes there and therefore it takes a while to replace it.
There are plenty of picnic tables dotted around the site and normally you can also book a BBQ spot – although these are currently closed due to the dangerously dry conditions this summer.
Near the information kiosk there are also a couple of outdoor table tennis tables that are free to use. We found bats on the tables and balls in little orange ball holders at each underneath the playing surface.
Facilities at Wendover Woods
The main facilities area at Wendover Woods had a makeover a few years back and there is now a much larger car park and a new building hosting a large toilet block and a good sized cafe with both indoor and outdoor seating.
The car park now works on an ANPR system and you need to pay before you leave at one of the machines next to the information point, or via an app on your phone.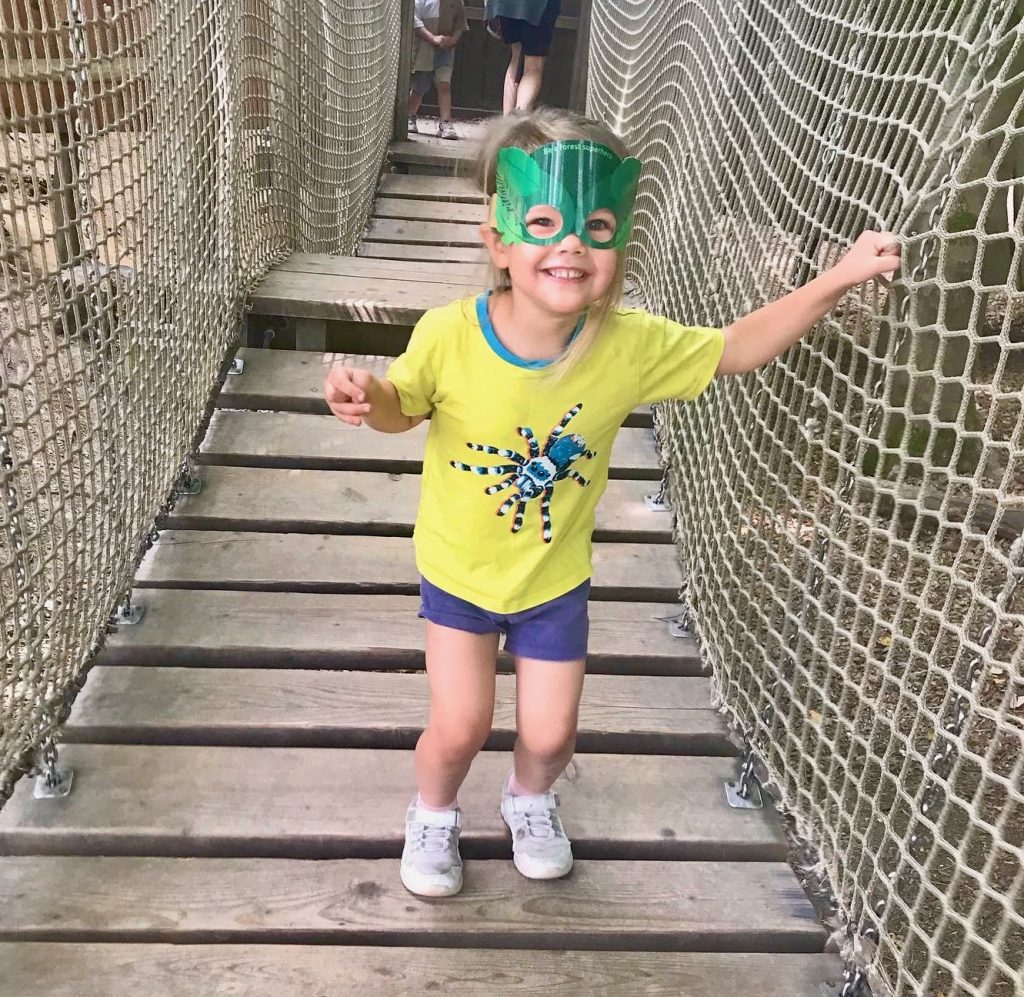 Looking for something else nearby?
Why not take a look at other places we've visited in Buckinghamshire, or neighbouring Bedfordshire and Hertfordshire.