I think it fair to say that most people know about the Natural History Museum in London. It's world famous. The dinosaurs there, especially "Dippy" the diplodocus who was there for over one hundred years, have been the reason for so many children (and adults) wanting to visit. There are about 80 million items in the museum's collection and there's something there to entertain and fascinate anyone with an interest in natural history.
What isn't so well known, is that the Natural History Museum has a smaller second museum in the Hertfordshire market town of Tring. The Natural History Museum at Tring was originally the private museum of Lionel Walter, 2nd Baron Rothschild and it is located in the grounds of the former Rothschild family home of Tring Park. If you're at all local to Tring, you probably know of the Rothschild family from one of their other current houses, Waddesdon Manor, which is currently open to the public, under the care of the National Trust.
Natural History Museum at Tring
The Natural History Museum at Tring houses one of the country's finest collections of stuffed mammals, birds, reptiles and insects and there's no wonder that so many local children simply know it as the "animal museum". The history of how it came to be is fascinating, and the museum has a room dedicated to Rothschild and the life that he dedicated to the study of animals. At the age of seven he declared to his parents that he was going to "make a museum" and he did just that. There's a short version of what he did over on the museum's website, but the detail provided at the museum itself is well worth a read.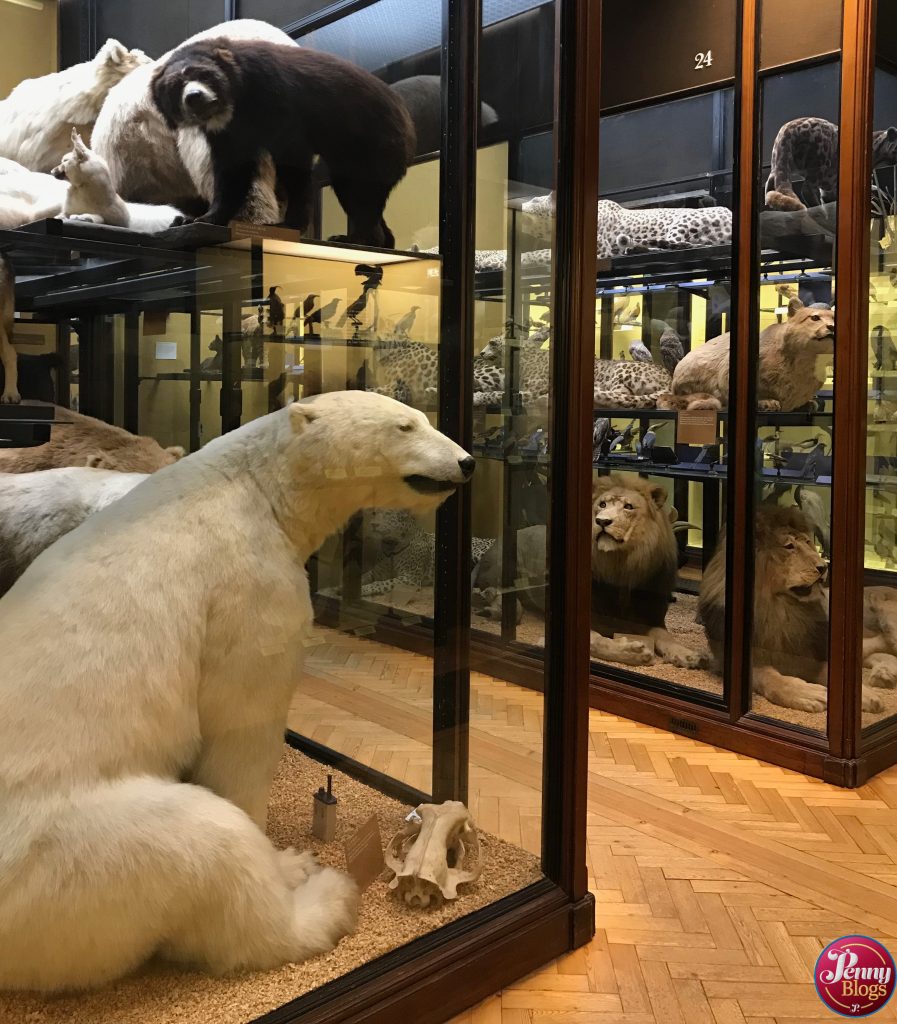 The museum has five other galleries with permanent exhibitions in which range from a zebroid foal (a hybrid between a horse and a zebra) to a whole selection of domestic dogs. If you have young children it is particularly lovely for them to visit and be able to get up close to so many animals, especially as many of the display cases are right down to the floor, meaning that children can see many exhibits for themselves without having to be lifted up. Gallery 1 has a beautiful vintage feel to it and walking around you can easily feel like you're back in a different era.
British Dinosaurs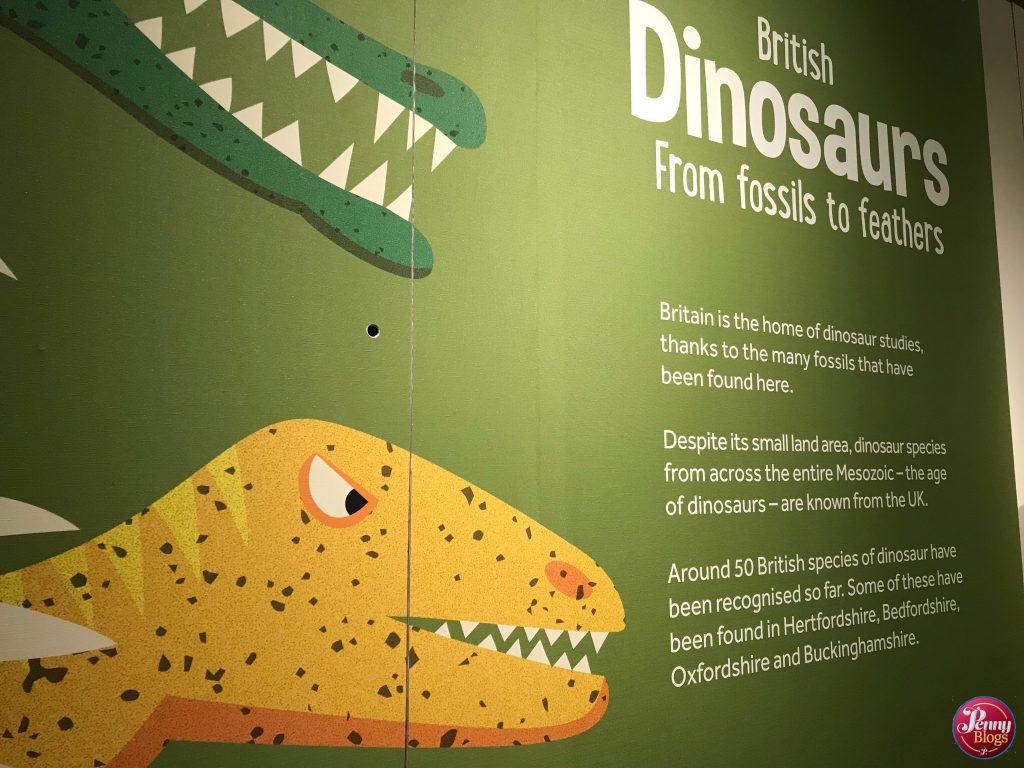 The reason for my most recent visit (and the second visit for four month old Tube Stop Baby – which shows how much we like the place!) was to see their most recent temporary exhibition in Gallery 2 – British Dinosaurs.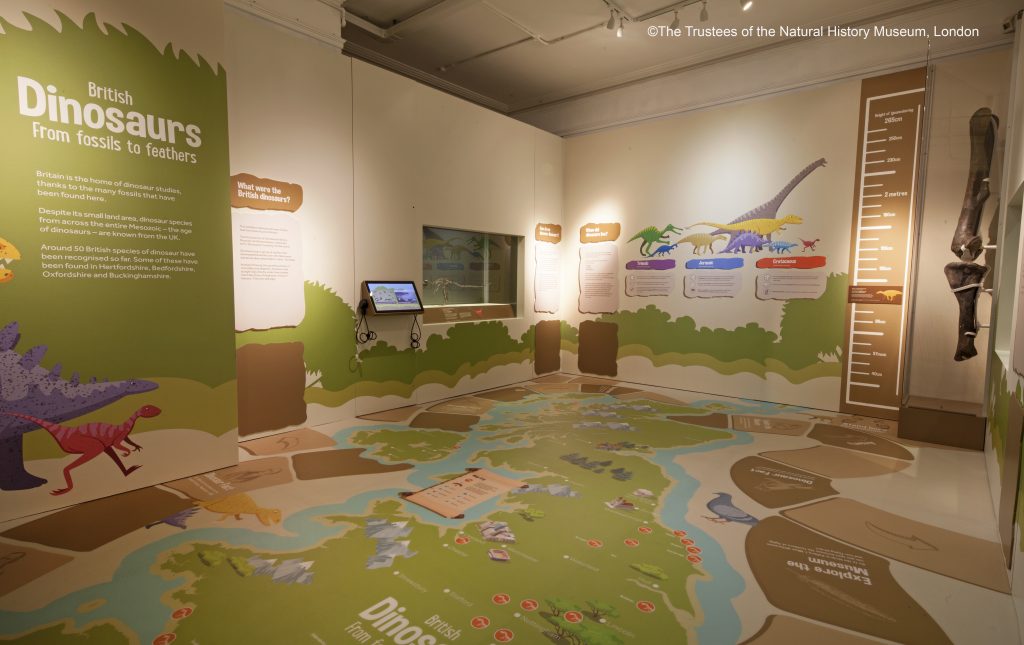 Photograph kindly provided by Natural History Museum, Tring and copyright The Trustees of the Natural History Museum, London.
The museum in London may be world famous for their dinosaur collection, but this exhibition focusses on British Dinosaurs, and the ones that still live among us in our gardens and parks. As you enter the gallery the first thing that hits you is the large map on the floor, showing where dinosaurs are known to have lived. My kids knew all about the Jurassic Coast in Dorset, thanks to a recent holiday with their Dad, but they were surprised to find out that dinosaurs were known to have been in so many other parts of the country.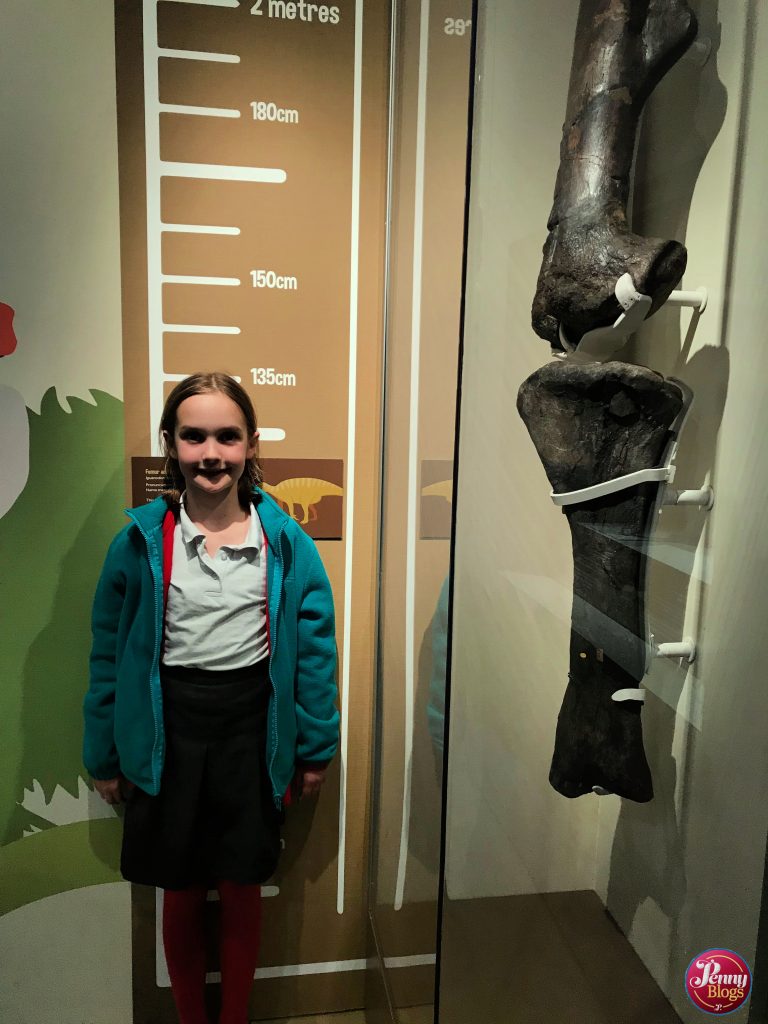 In Tring children can measure themselves against the femur and tibia of an Iguanodon (one of the first dinosaurs to be discovered). They can see the massive Baryonyx walkeri skull and think about how huge this dinosaur could be by looking at backbone specimens that were found in Surrey. Their teeth can be compared to Megalosaurus bucklandii teeth found in Oxfordshire.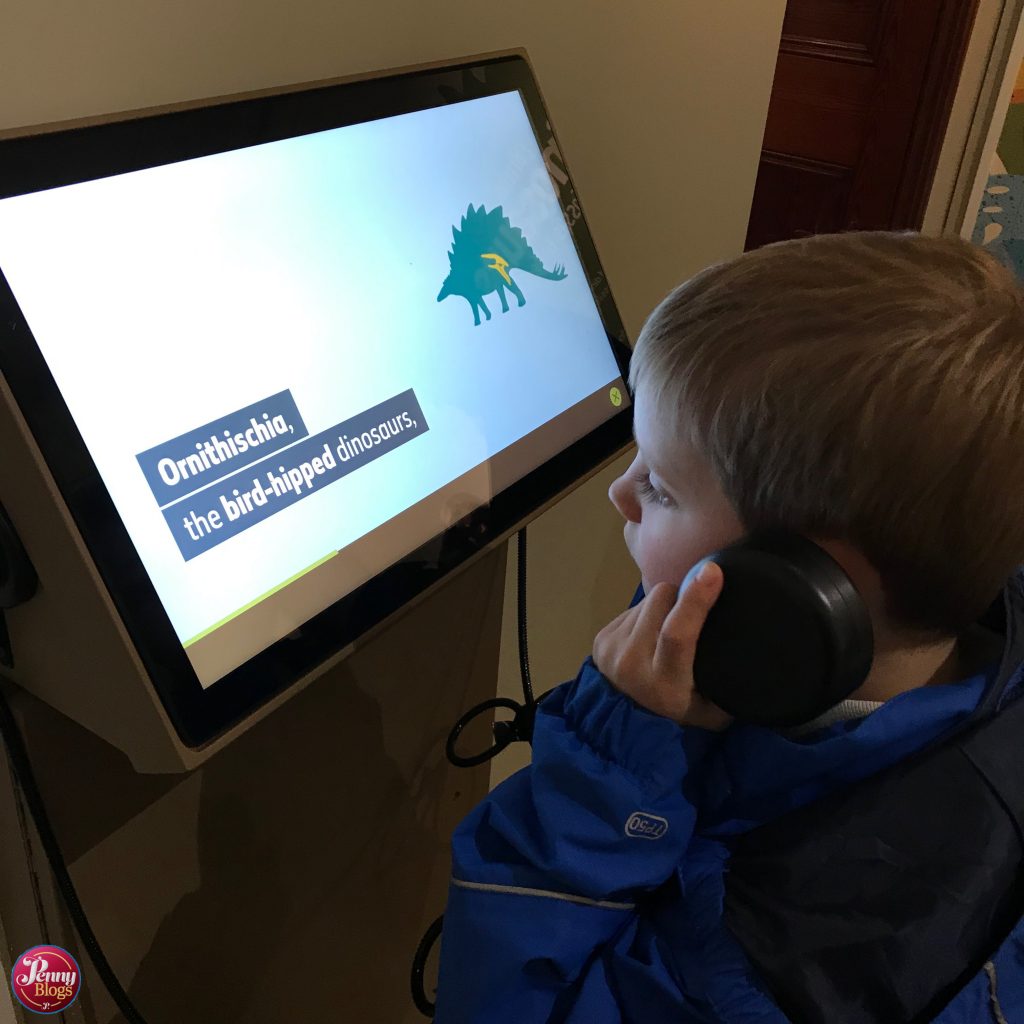 There are also a couple of interactive exhibits that my kids learnt loads from. Any excuse to touch a touch screen and they'll take it!
What we thought
At 6 and 8, Little Miss C and Master C really enjoyed the British Dinosaurs exhibition, as well as wondering around the rest of the museum again. They also seemed to learn plenty too, especially LMC who spent quite a while reading about all the dinosaur exhibits.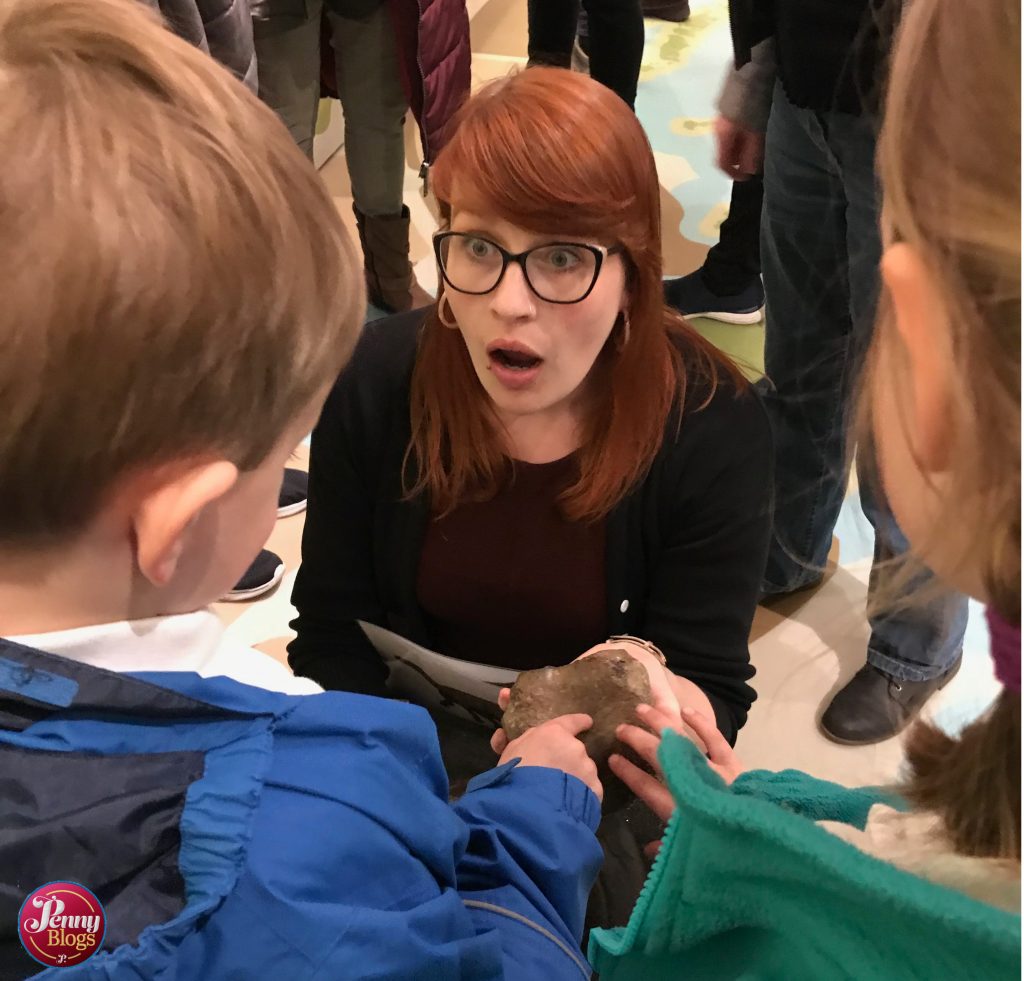 I'm not going to lie, if your children are expecting to see huge dinosaur skeletons towering over them, then you should head for London instead, but as part of a bigger visit to the museum it's a brilliant opportunity to learn about the dinosaurs that used to live here. The kids enjoyed the opportunity to touch a dinosaur tooth and to think about just how old it was in comparison to their ages. They also made a point of finding the reptile skin I'm gallery 6 so that they could get a feel for what a dinosaur would have felt like.
The kids have been going to the museum since they were very young, but they still enjoy going back. Little Miss C even did a "Roars and Snores" event recently with Brownies where they spent an evening in the museum learning about the exhibits, dissecting owl pellets and under standing how taxidermy is done. They then all slept on the floor next to some of the exhibits. She did say it was a tad scary to wake in the night with a deer peering down at her!
Visiting the Natural History Museum at Tring
The British Dinosaurs exhibition is running at Tring from 5 April to 11 October 2019. The Natural History Museum is located at The Walter Rothschild building, Akeman Street, Tring, Hertfordshire, HP23 6AP and is a short walk from the centre of Tring. There is a car park on site, but it can get very busy, so you are sometimes better off parking else where and walking. Entry to the museum, including the British Dinosaurs exhibition, is free. For full detail of the museum's opening hours, please look at their website.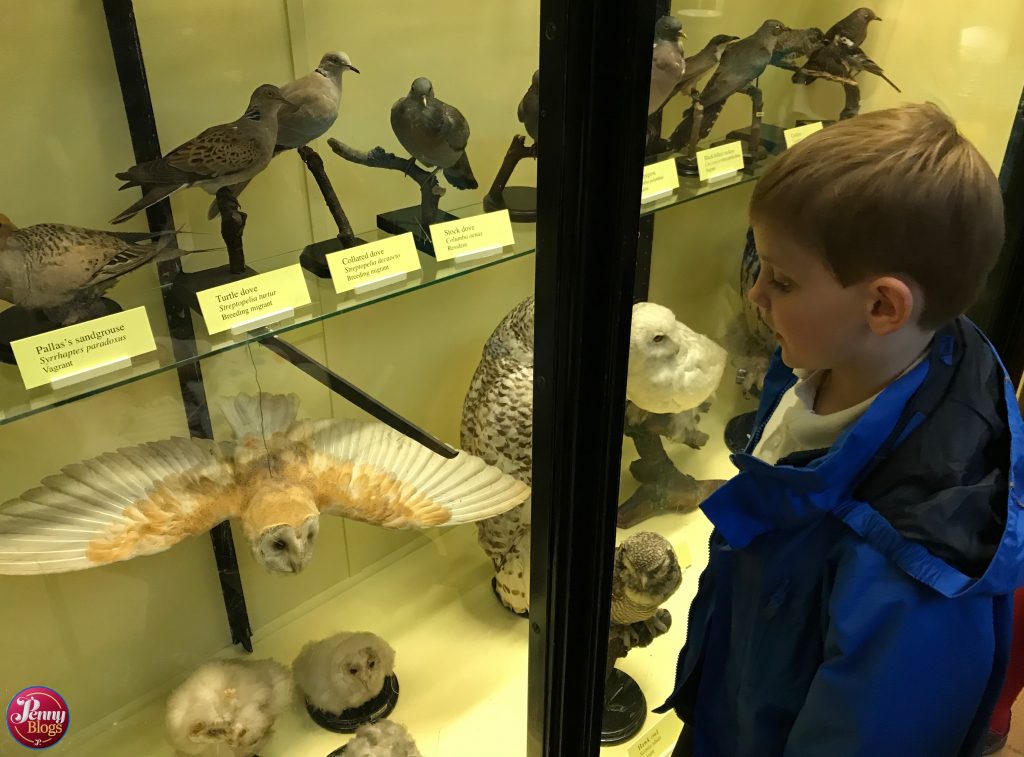 The whole museum is accessible with a pushchair, you just need to go in via the entrance off the car park, rather than the main entrance which has steps leading up to it. There is a cafe on site that has recently had a revamp. I'm told it is very good, but every time I have tried to visit the queue has been out of the door! I'm taking that as a sign that it is as good as I've been told.
A final word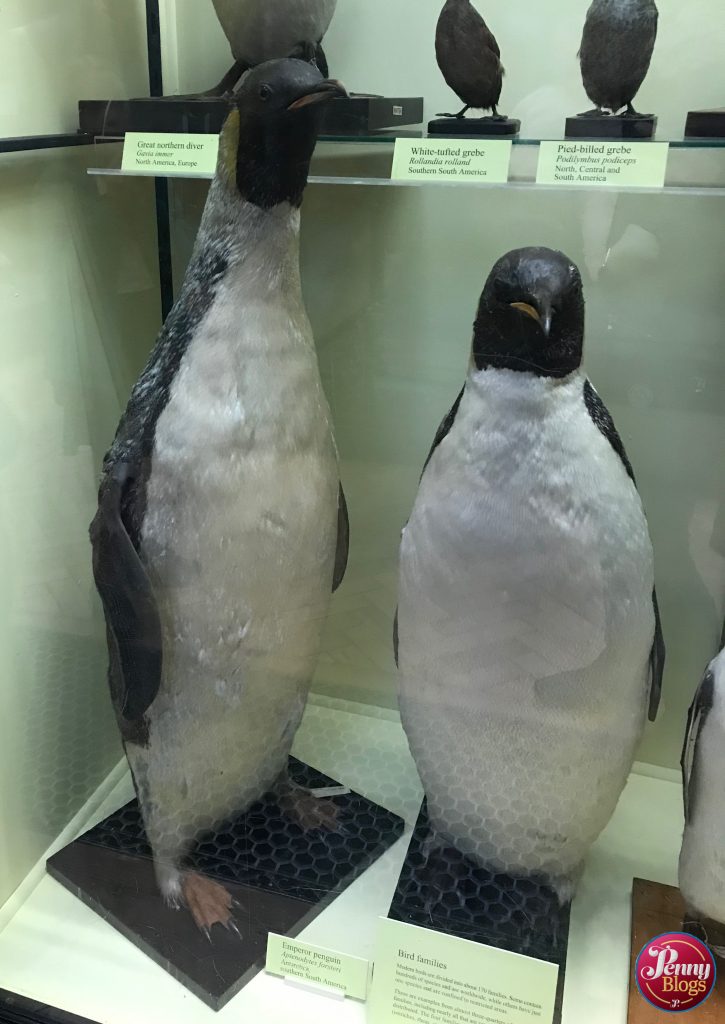 My final word would be to say that when you go, please go and look at the Emperor Penguins and work out why the one on the left looks so strange. A member of staff explained it to me when we were there last week and it's a fascinating story. Make sure you ask them if you can't work it out for yourself.
Disclaimer: We were guests at a preview opening of the British Dinosaurs exhibition at Tring and the kids were given a vast quantity of bread sticks and crisps to much whilst there. All opinions remain my own.