When you visit Oxford you can be forgiven for being dazzled by all the University's spectacular architecture and all the historic colleges, but make sure you don't forget about the city's museums. The Oxford University Museum of Natural History and the Pitt Rivers Museum may be two separate museums, but they are co-located on the same site, and to get from one to the other it really is as simple as walking through an interconnecting door.
Oxford University Museum of Natural History
When you arrive at the museum site it is the Museum of Natural History that you will visit first, for the simple fact that you have to walk through it to get to the Pitt Rivers Museum.
As you walk up the steps and into the main museum hall, the size, height and brightness of the hall takes your breath away. Especially on a sunny summer's day like the one we visited on.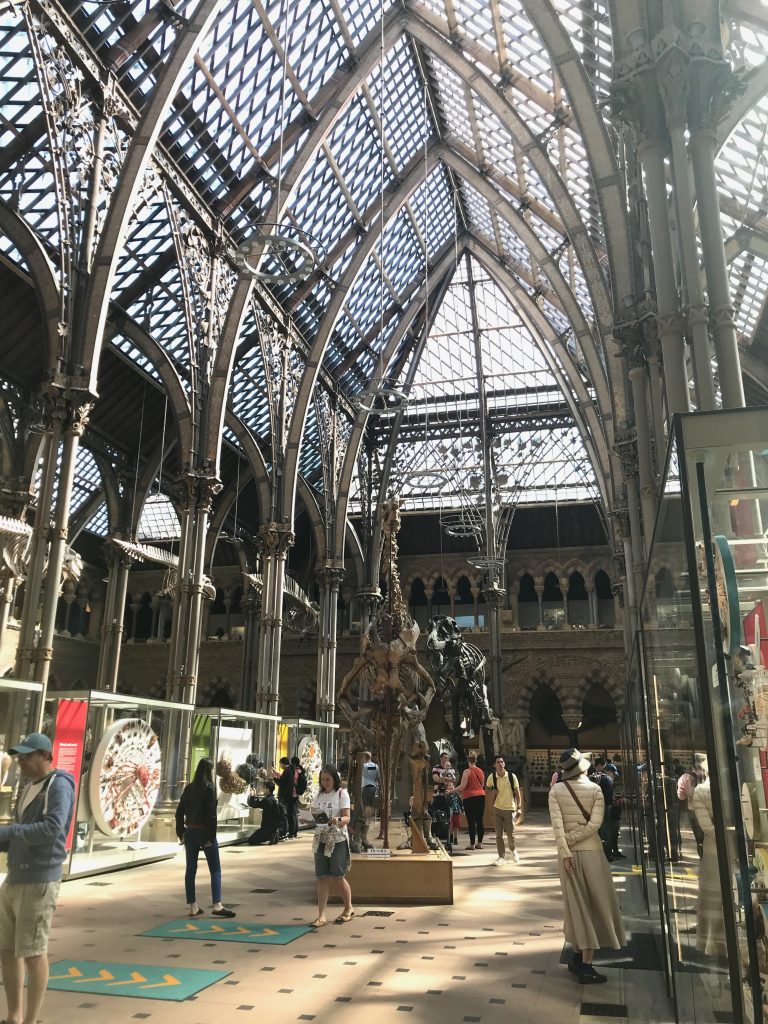 I'm not going to pretend that it can compete with the scale of London's Natural History Museum, but if you're looking for somewhere a bit more compact then this is actually the perfect museum to visit. Most importantly for many little ones visiting – there are dinosaurs!
What is there to see?
Originally established in 1860 to draw together scientific studies from across the University of Oxford, the museum's strap line today is "Home to Earth, science and nature". In addition to the impressive fossils and skeletons on display, my daughter was amazed to be able to see so many different butterflies and other insects and she took a particular interest in counting how many different pigeons she could spot in the bird section of the museum.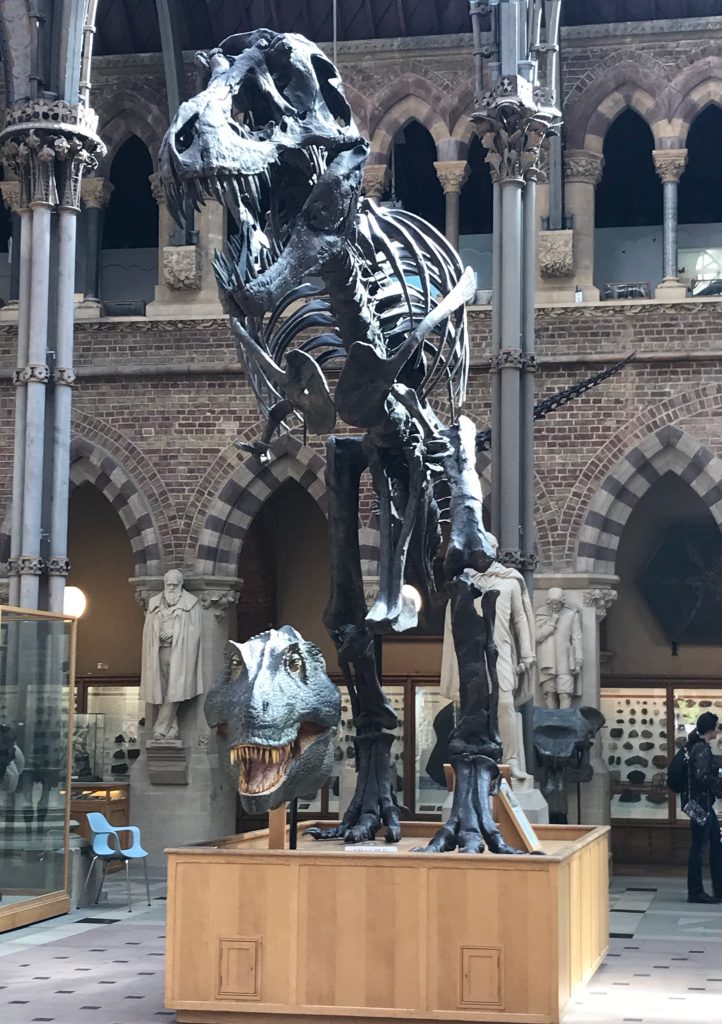 Some of the museum's displays have been refreshed recently and there are now two large plesiosaur skeletons that you can marvel at, as well as Mary Anning's ichthyosaur.
The architecture of the museum
It's impossible to ignore the fabric of this museum. There's something about the roof structure that makes me (and others) think about some of the impressive railway architecture that you see at stations like St Pancras, and it was a bit of an experiment sitting alongside the Victorian Neo-gothic stone architecture holding it up. I noticed as we went around that the pillars are all made of different materials, from across the country. The geological artefacts built into the museum itself.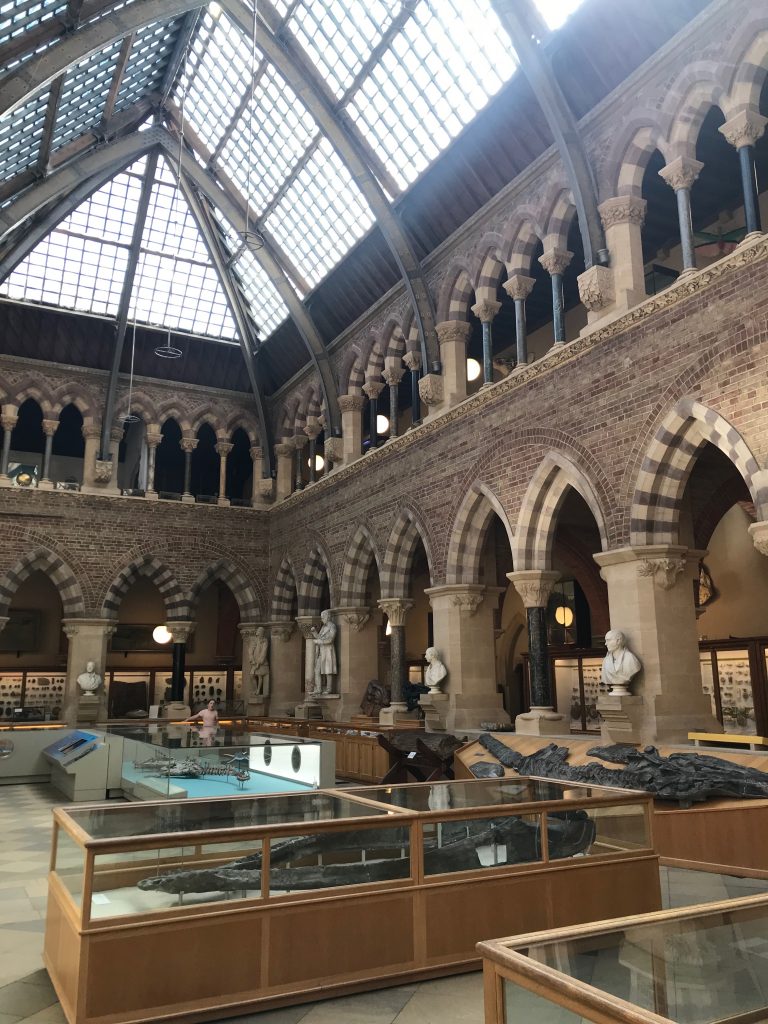 My photos don't do it proper justice, but this video is fantastic to give you a taste for what it's like, and to show you some of the hidden features that you might otherwise overlook.
You can also learn more about the architecture of the Museum of Natural History on their website here.
Facilities at the museum
In addition to a small gift shop by the entrance there is also a cafe on level one of the museum building, looking down over the main hall. Toilets and baby changing facilities are also available. Whilst eating and drinking is not allowed in the museum, you can eat a picnic on the lawn outside the front of the building and whilst we were there many did this.
Out the front of the museum was also a lovely independent coffee van that sold hot and cold drinks as well as snacks. The queue of people who obviously work and study nearby suggests they were very good.
Visiting the Museum of Natural History
It is free to visit the Oxford University Museum of Natural History, but there is a suggested donation of £5 to help them cover their costs. You don't need to book and more details can be found on the museum's website.
Kids want to know more?
There are some family trails for the museum that you can either print out before you arrive, or they have printed versions at the information n desk in the museum. And if your little ones are impressed by the ichthyosaur and want to learn more about Mary Anning then the Little People, Big Dreams book on her is excellent. The museum's website also details any family friendly activities that they put on in school holidays.
The Pitt Rivers Museum, Oxford
A door at the back of the Museum of Natural History leads into the Pitt Rivers Museum and as you step through the doorway it is very obvious that you are entering somewhere with a very different feeling.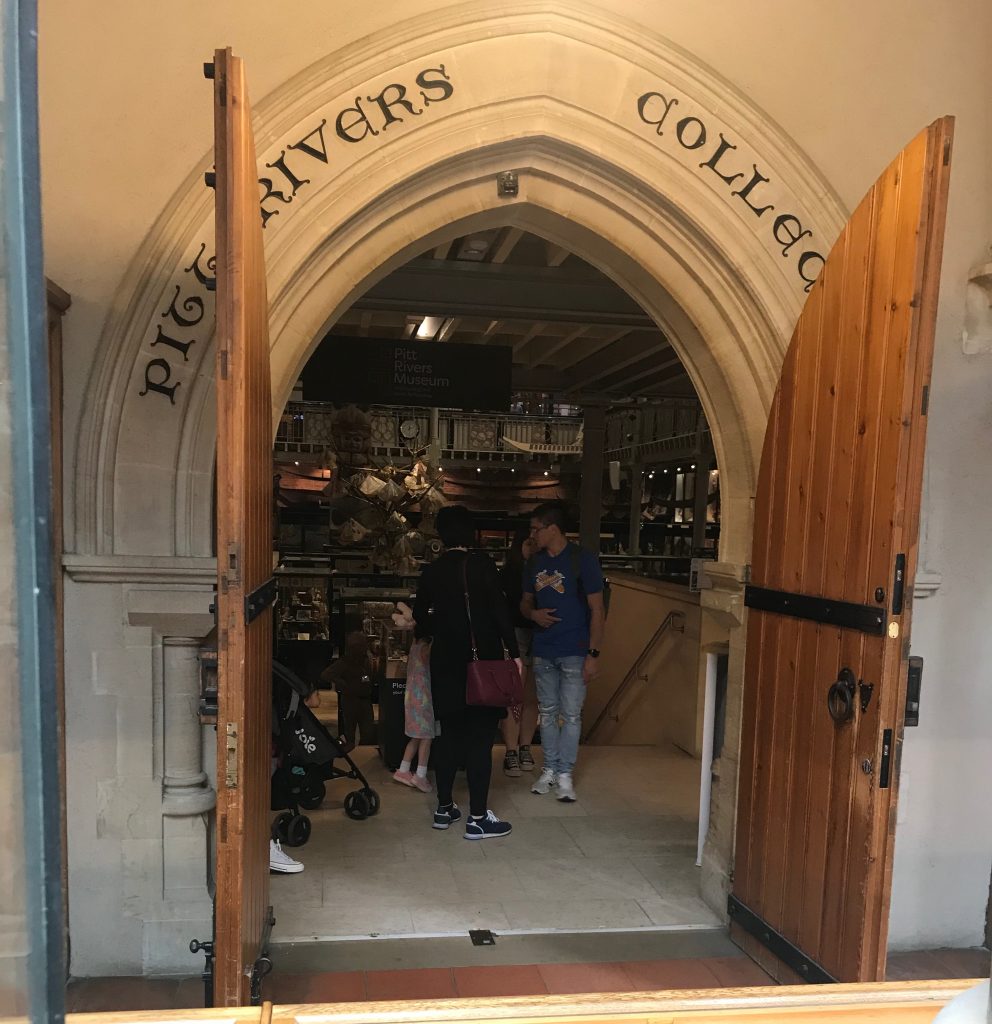 The Pitt Rivers Museum lacks the bright open space of its neighbour the Museum of Natural History and instead visitors are presented with quite a dark space that is absolutely rammed full of artefacts. Housing the University of Oxford's archaeological and anthropological collections there is so much to see that it can be a bit daunting knowing where to look first.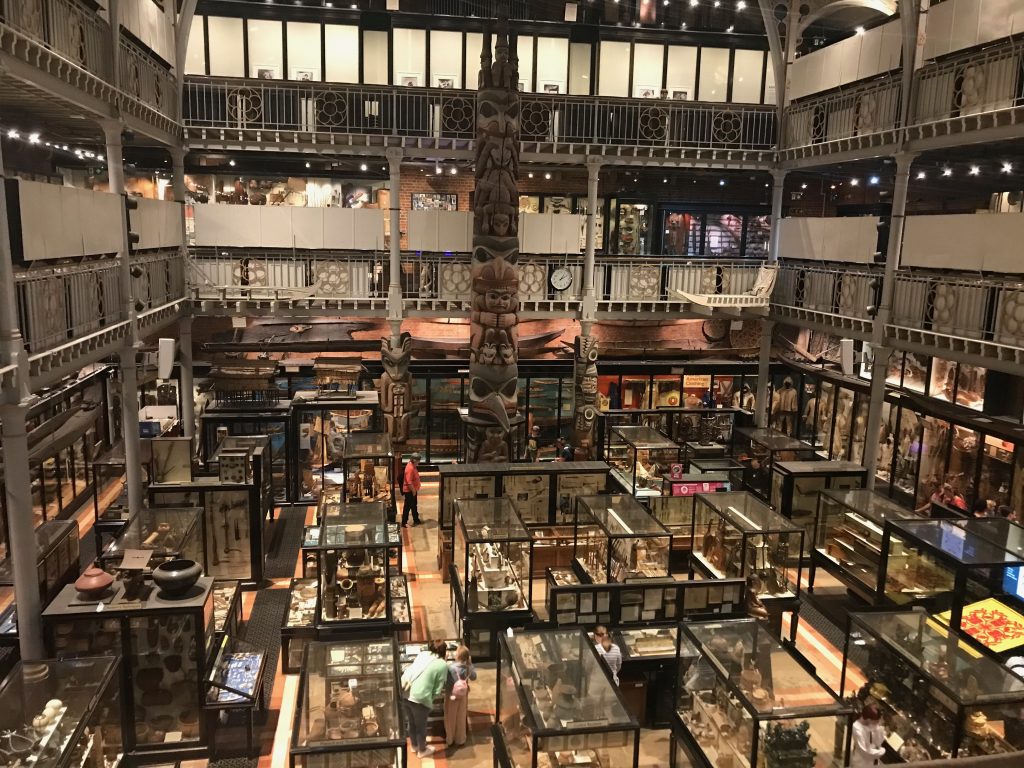 An uncomfortable initial experience
As is traditional when visiting somewhere with an excited young child we didn't really go round the museum in the suggested order and as a result of that I actually felt a bit uncomfortable about some of what I was looking at, until I found the relevant explanatory panels. The museum frankly accepts on one of its panels that "The history of the Pitt Rivers Museum is tied to British Imperial expansion and the colonial mandate to collect and classify objects from all over the world. The processes of colonial "collecting" were often inequitable and even violent towards those people being colonised." They go on to talk about this uncomfortable past for the museum, and how they are working through the collections, how they are presented, and how they are explained through a present day lens. You can ream more about the museum's commitment to change on their website.
My favourite exhibits
In a museum that contains so much it can be overwhelming to try to take it all in. There were a few exhibits though that did stick with me when we left.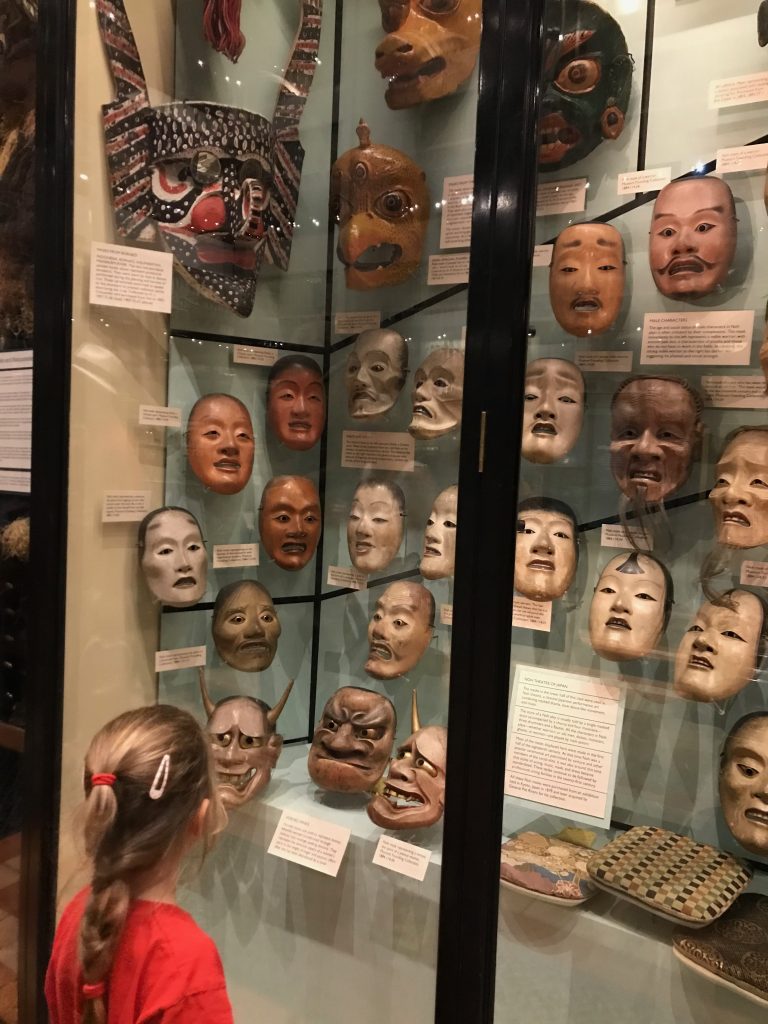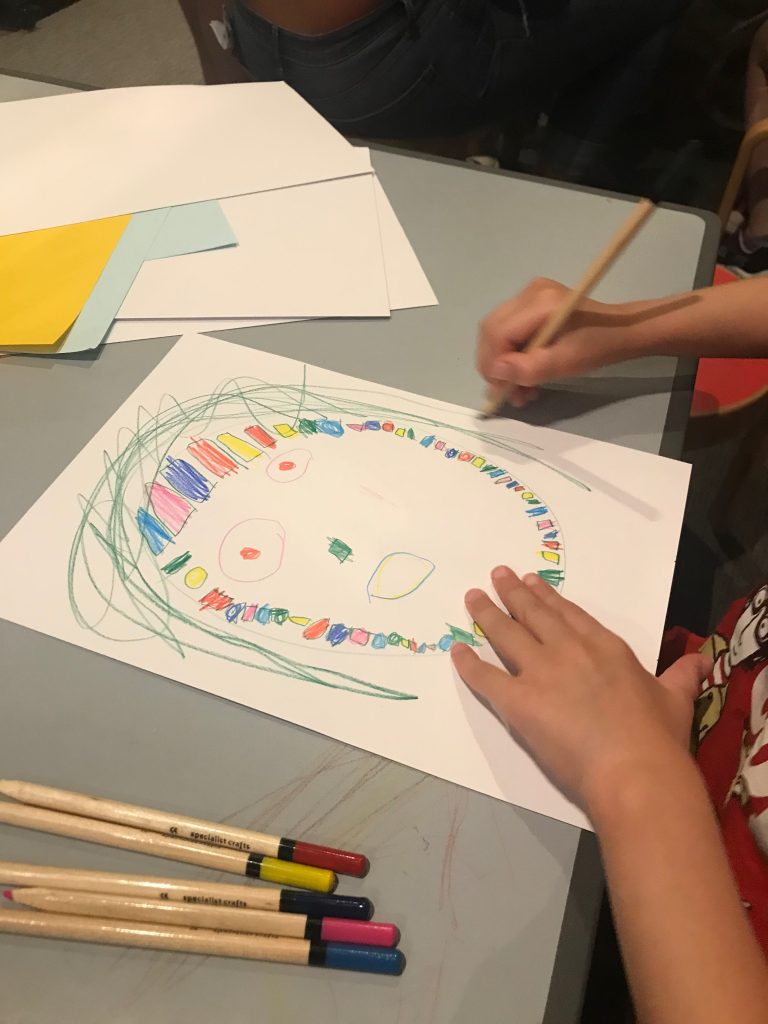 My daughter loved the variety of masks that the museum displays, and when we stumbled into a school holiday drawing session for children it was a mask that she chose to design. Her's wasn't quite was freaky as some of the ones on display (thankfully!) but the museum also had some excellent drawing prompts for children of all ages to encourage them to look at the museum's exhibits carefully.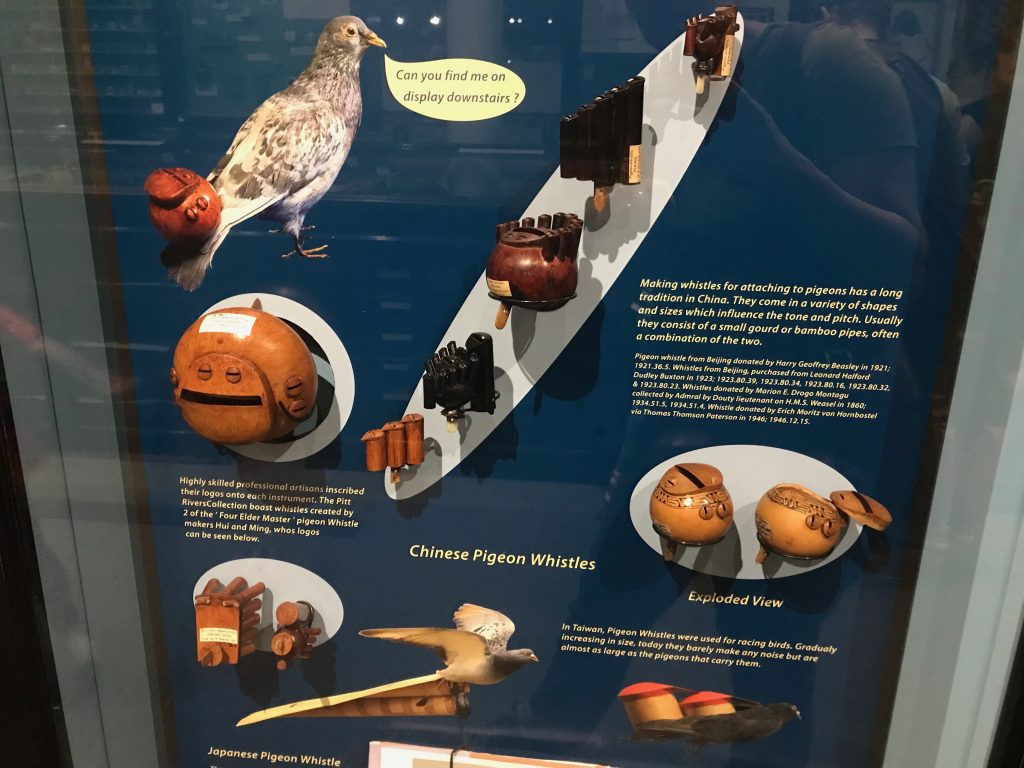 For me though whilst the pigeon whistles fascinated me, I was speechless at the sight of a man's parka made of seal intestines from Alaska. Purchased by the Pitt Rivers Museum in 1908 it is described as such:
"The cuffs and hem of this parka feature a complex border of fourteen thin bands of parchment-like sealskin dyed red and black. These are over woven with fine caribou-hair embroidery in geometric patterns. There are more than 20,000 embroidery stitches in the border alone"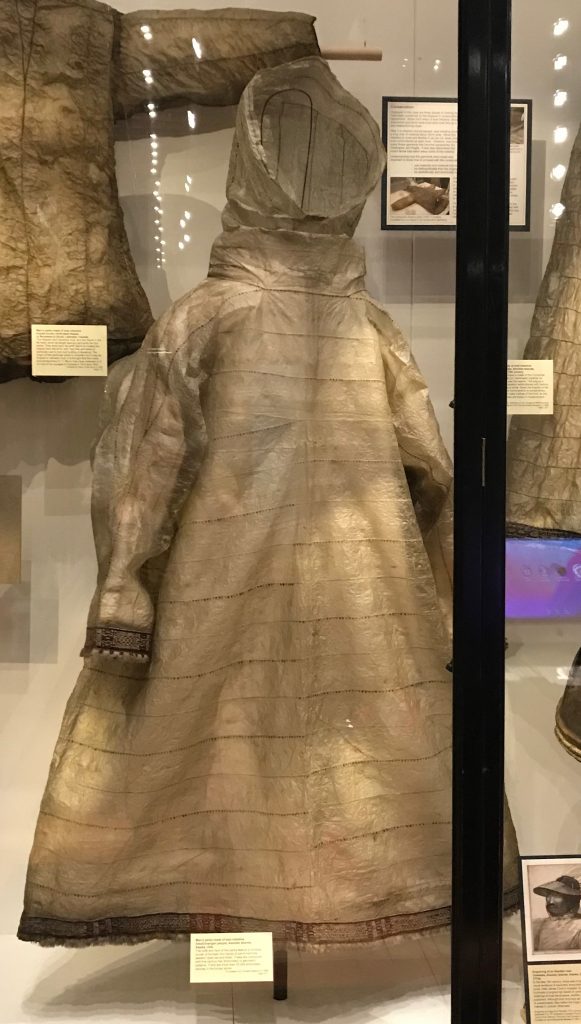 Let that just sink in. Over 20,000 embroidery stitches in the border alone. And made in or before 1908. So, no electric light. In Alaska, so probably dark for half the year. The work that must have gone into that absolutely fascinates me, and I'm left wondering why it was felt necessary to decorate a parka so elaborately. I wish I knew.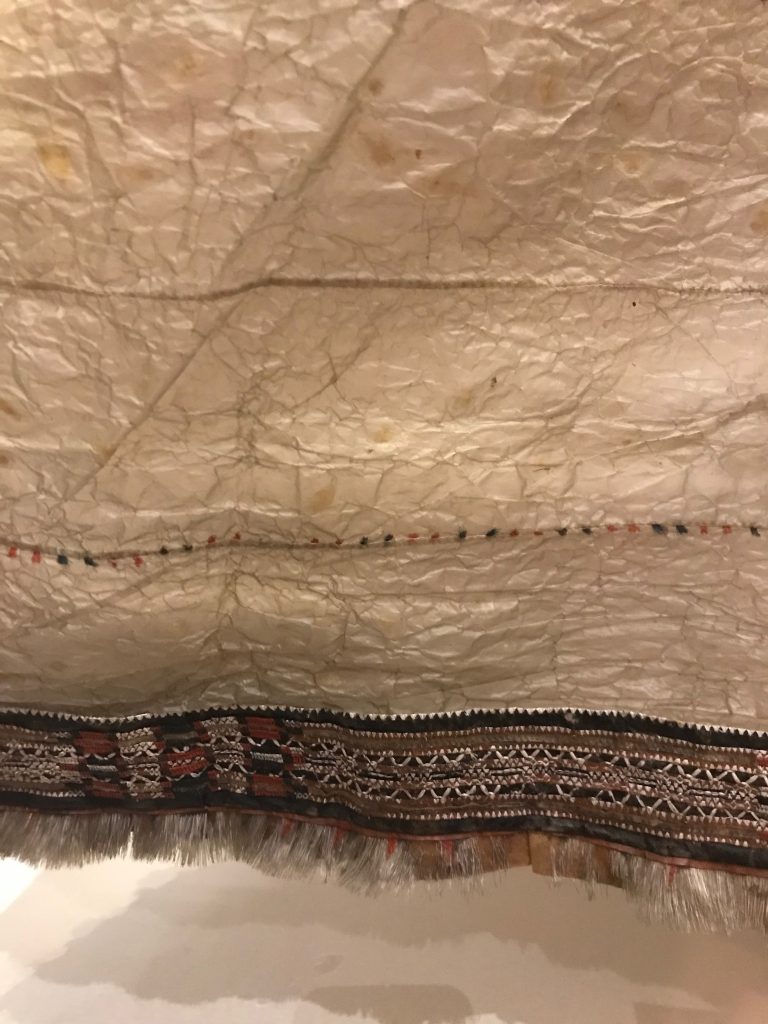 Facilities at the Pitt Rivers Museum
With the Pitt Rivers Museum connected to the Museum of Natural History it shares many of the same facilities. It has its own toilets and a small gift shop, but for refreshments you are directed to either the cafe in the Museum of Natural History or back outside for a picnic space and alternative coffee provision.
Wondering where else to visit?
Why not take a look at other places we have visited in Oxfordshire or the neighbouring county of Buckinghamshire. You could also see which other museums we have visited around the world.