I can pinpoint the moment that I was inspired to travel right down to watching one TV programme. It was the episode of Michael Palin's Around the World in 80 Days (which was of course inspired by the book of the same title by Jules Verne) in which he visited Hong Kong. I can't explain exactly what it was about that episode that got to me, but something did. From that moment I was determined to visit Hong Kong, see all the hustle and bustle for myself and in particular follow in Michael's footsteps to the Happy Valley racecourse.
I'm delighted to say that years later I did just that. An old school friend lived in Hong Kong and when my ex-husband and I went out there we met up with her and I explained my possibly strange sounding desire to go to the races. As luck would have it, her and her boyfriend at the time where both members and so off we went to a night at the races. As I stood there in the stands, watching the horses race around and with the Hong Kong skyline behind it was one of those moments where I realised just how wonderful travel can be.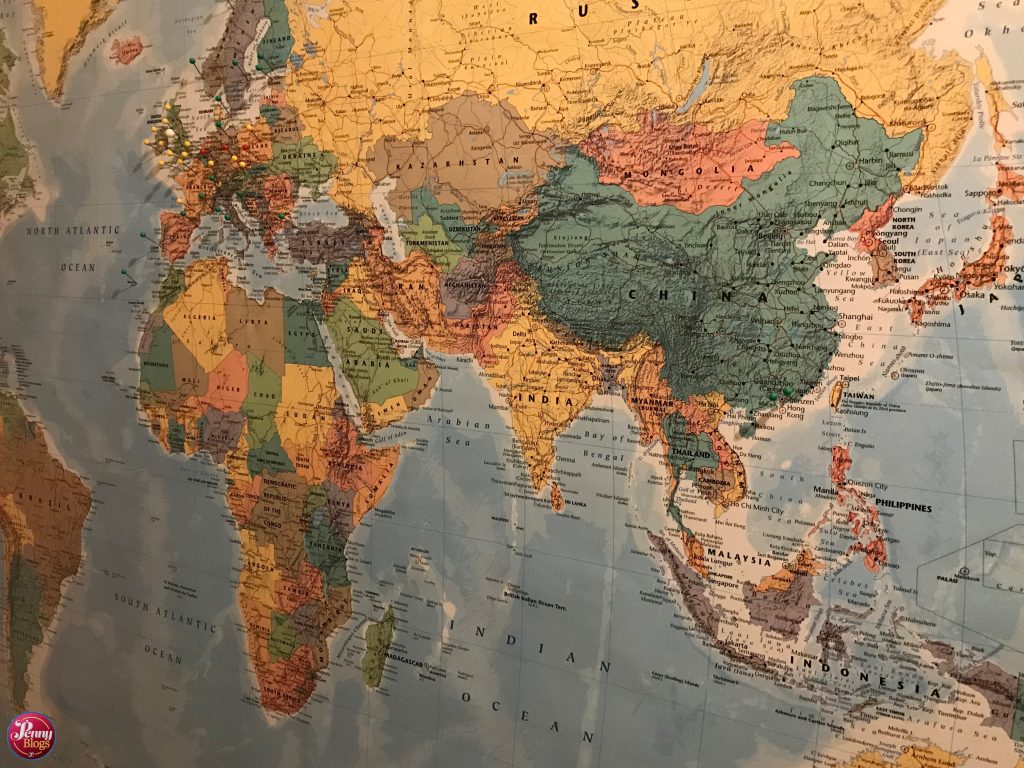 Since then I've watched plenty of travel programme on the television, and more recently travel vlogs on YouTube, but nothing has even spoken to me quite as much as Michael Palin did. Until now.
A couple of weeks ago, one of the trailers that you get on BBC iPlayer was for a new BBC 2 programme called Race Across the World. Intrigued, and with plenty of time on my hands sat on the sofa under a feeding baby, I found the first programme and was hooked. It's rare that I watch live TV these days, but since discovering that we were still in the middle of the series, I've been making sure I'm tuned in on a Sunday evening. There's only one episode left, which I'm gutted about, but I'm now so fired up to dust off my passport and make sure that Bonn and I show Tube Stop Baby the world.
So, what is this programme that I'm making such a song and dance about?
The main premise of Race Across the World, and what probably caught my attention the most, is that it's about travelling by land and water, rather than by air. Five couples are in a race to travel from London to Singapore. Not flying anywhere, and not spending more than the cost of a single airfare between the two locations. That money has to cover all their travel, accommodation and food. Oh, and they've also had their smartphones taken off them!
The logic behind the programme is that Singapore is the furthest place that you can get to via land (ignoring the need to cross the English Channel from the UK to France!) The teams are given a number of checkpoints en-route, which determines a little bit which way they go, but otherwise how they travel is up to them. They can work during their travels to earn some extra money, and can accept any gifts from people they meet, but otherwise things are up to them.
What I'm loving about the programme is how it puts the focus on the journey part of travelling, rather than just the destination. To me, especially as a bit of a train fan, the getting somewhere is just as important as where you're going. Someone once told me that you get to find out a huge amount about a country or city by using their public transport system. This is exactly the case in this programme. When you see some of the teams on long train journeys, chatting to the people travelling along side them you can see them learning so much more about the local people and their cultures than they would have ever got from just flying over in an aeroplane.
When it comes to the contestants, I have to admit that I don't really care who wins the race. I just look forward to seeing how they all make their way to the final checkpoint in Singapore and what adventures they have on the way!
The final episode of Race Across The World is this Sunday (31 March 2019) at 9pm. You can currently catch up on all previous episodes on the BBC iPlayer.
Disclaimer: This post contains affiliate links to products that I have previously bought with my own money.